'Jesus Loves The Little Children' From Christian Couple Caleb And Kelsey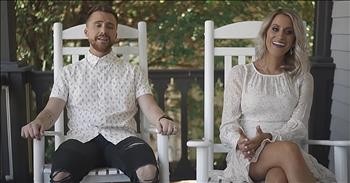 Christian couple Caleb and Kelsey Grimm perform a beautiful mash up of 'Jesus Loves The Little Children' and 'He's Got The Whole World In His Hands.' These two songs are beloved children's classics.

I'm sure many parents can remember singing these songs with their little ones in church or right before bed. The simple, yet lovely lyrics remind us all that Jesus loves us no matter what and He is always in control.
"Jesus loves the little children
All the children of the world
Red, brown, yellow
Black and white
They are precious in His sight
Jesus loves the little children
Of the world"
This married couple are known better by their stage name of Caleb + Kelsey. Together, they've used their God-given talents to sing praises to His Name. As the parents of two young boys, Caleb and Kelsey strive to share the message of God's love and mercy with their children.
Through this amazing mash up, we are reminded that everyone is perfect in the Lord's eyes. Just listen as they belt out the words that we have heard so many times before.
"He's got the itty bitty baby in His hands
He's got the whole world in His hands"
As parents, we are charged with protecting and raising these precious babies. But when we put our trust in the Lord, He will always lead us on the right path. You can find this song and other favorites on Caleb and Kelsey's latest album, 'Sing Over Me: Songs For Parents And Their Little Ones.'
anthem-lights

925 views

2019-10-18T14:27:05

source: Anthem Lights Christian couple Caleb and Kelsey Grimm perform a beautiful mash up of 'Jesus Loves The Little Children' and 'He's Got The Whole World In His Hands.' These two songs are beloved children's classics.

I'm sure many parents can remember singing these songs with their little ones in church or right before bed. The simple, yet lovely lyrics remind us all that Jesus loves us no matter what and He is always in control.

"Jesus loves the little children
All the children of the world
Red, brown, yellow
Black and white
They are precious in His sight
Jesus loves the little children
Of the world"

This married couple are known better by their stage name of Caleb + Kelsey. Together, they've used their God-given talents to sing praises to His Name. As the parents of two young boys, Caleb and Kelsey strive to share the message of God's love and mercy with their children.

Through this amazing mash up, we are reminded that everyone is perfect in the Lord's eyes. Just listen as they belt out the words that we have heard so many times before.

"He's got the itty bitty baby in His hands
He's got the whole world in His hands"

As parents, we are charged with protecting and raising these precious babies. But when we put our trust in the Lord, He will always lead us on the right path. You can find this song and other favorites on Caleb and Kelsey's latest album, 'Sing Over Me: Songs For Parents And Their Little Ones.'

Today's Devotional
A Prayer for Forgiving Others - Your Daily Prayer - May 26
Top Artists