Adorable Adopted Girl Shares Moment She Met Her Mom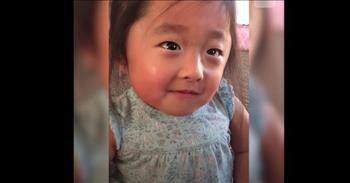 In this touching video, an adopted girl adorably describes meeting her mom for the first time. Get your tissues ready, because this heartwarming sight will make you cry tears of happiness!

Gabby and her younger sister, Lily, were adopted by loving parents. Gabby goes on to share with her mother what it was like when they first met.
"And the time when you saw her, she was one years old. And the time when you saw me, I was four years old! And we were very excited to meet you and our daddy," Gabby sweetly explains. "And we love you guys, and we want to be here for you and daddy."
It is beautiful to see Gabby sharing her feelings in such a kind and mature way. She is so young yet really knows how to express herself! Gabby is so precious and her declaration of love to her parents is one that they will hold on to for years to come.
"Do you know what happened to my heart?" Gabby asks her mom when talking about the first time they saw each other.
"What happened to your heart?" her mom responds.
"Well, when the first time I told you, well, I saw you, my heart fell in love with you!" Gabby says.
"Your heart fell in love with me?" her mother delightfully exclaims. "My heart fell in love with you, too!"
What a heartfelt and adorable moment between a mother and daughter! You can clearly feel the strong bond between them and the great love that they share. What a blessing that Gabby and Lily were adopted by their parents and that this family can continue to share in their love together.
1 Samuel 1:27
"I prayed for this child, and the Lord has granted me what I asked of Him."
godtube-inspiration

7270 views

2019-10-18T09:33:53

source: In The Good News In this touching video, an adopted girl adorably describes meeting her mom for the first time. Get your tissues ready, because this heartwarming sight will make you cry tears of happiness!

Gabby and her younger sister, Lily, were adopted by loving parents. Gabby goes on to share with her mother what it was like when they first met.

"And the time when you saw her, she was one years old. And the time when you saw me, I was four years old! And we were very excited to meet you and our daddy," Gabby sweetly explains. "And we love you guys, and we want to be here for you and daddy."

It is beautiful to see Gabby sharing her feelings in such a kind and mature way. She is so young yet really knows how to express herself! Gabby is so precious and her declaration of love to her parents is one that they will hold on to for years to come.

"Do you know what happened to my heart?" Gabby asks her mom when talking about the first time they saw each other.

"What happened to your heart?" her mom responds.

"Well, when the first time I told you, well, I saw you, my heart fell in love with you!" Gabby says.

"Your heart fell in love with me?" her mother delightfully exclaims. "My heart fell in love with you, too!"

What a heartfelt and adorable moment between a mother and daughter! You can clearly feel the strong bond between them and the great love that they share. What a blessing that Gabby and Lily were adopted by their parents and that this family can continue to share in their love together.

1 Samuel 1:27
"I prayed for this child, and the Lord has granted me what I asked of Him."

Today's Devotional
A Prayer to Keep it Together When Your Life is Falling Apart - Your Daily Prayer - November 15
Top Artists