Dad Puts Baby On Guitar For Adorable Naptime Routine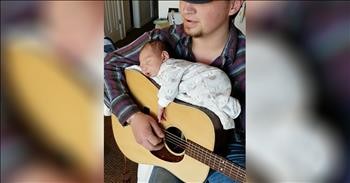 Country singer Cody Comer puts his baby on his guitar for the cutest naptime routine.

When it was time for Cody's daughter to take a nap, Mom handed the infant over to him. That's when this talented musician used a unique method to lull the baby to sleep.
Just watch as Cody places the baby girl across the top of his guitar and starts to strum. As he sings a soft melody, the tiny baby is out like a light.
Cody even wrote on Facebook that this special method works every single time. After he posted the video online, people all over the world took notice.
In fact, this naptime serenade has been viewed over 35 million times with thousands of comments. There's something so special about the bond between a father and a daughter. They share a connection like no other and it's so heartwarming to witness their love in a moment like this.
God blessed us beyond measure when He gave us children of our own. It is our responsibility to care for these sweet infants during our time on Earth.
Cody obviously has so much love and affection for his baby girl and I just know that this is going to be a moment that they cherish for a lifetime.
"Psalm 127:3-5 Children are a heritage from the LORD, offspring a reward from him. Like arrows in the hands of a warrior are children born in one's youth. Blessed is the man whose quiver is full of them. They will not be put to shame when they contend with their opponents in court."
My wife asked me to see if I could get our daughter to take a nap today because her and the ladies were busy doing something so we took a nap daddy's way!!! And it works every time!!

Posted by Cody Comer Music on Wednesday, March 13, 2019
godtube-inspiration

7357 views

2019-03-18T14:48:00

source: Cody Comer Music Country singer Cody Comer puts his baby on his guitar for the cutest naptime routine.

When it was time for Cody's daughter to take a nap, Mom handed the infant over to him. That's when this talented musician used a unique method to lull the baby to sleep.

Just watch as Cody places the baby girl across the top of his guitar and starts to strum. As he sings a soft melody, the tiny baby is out like a light.

Cody even wrote on Facebook that this special method works every single time. After he posted the video online, people all over the world took notice.

In fact, this naptime serenade has been viewed over 35 million times with thousands of comments. There's something so special about the bond between a father and a daughter. They share a connection like no other and it's so heartwarming to witness their love in a moment like this.

God blessed us beyond measure when He gave us children of our own. It is our responsibility to care for these sweet infants during our time on Earth.

Cody obviously has so much love and affection for his baby girl and I just know that this is going to be a moment that they cherish for a lifetime.

"Psalm 127:3-5 Children are a heritage from the LORD, offspring a reward from him. Like arrows in the hands of a warrior are children born in one's youth. Blessed is the man whose quiver is full of them. They will not be put to shame when they contend with their opponents in court."
Today's Devotional
A Prayer for Your Aging Parent - Your Daily Prayer - October 19
Top Artists