Bluegrass Rendition Of 'Amazing Grace' From The Hatley Family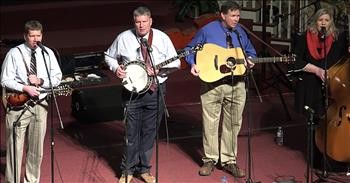 The Hatley Family performs an incredible bluegrass rendition of 'Amazing Grace.' This classic hymn has truly stood the test of time and the powerful lyrics still ring out true today.

"Amazing Grace, How sweet the sound
That saved a wretch like me
I once was lost, but now am found
T'was blind but now I see
T'was Grace that taught my heart to fear
And Grace, my fears relieved
How precious did that grace appear
The hour I first believed"
There's a reason the hymn 'Amazing Grace' remains the favorite hymn for so many people. The powerful lyrics remind us that we are never lost.
When God sent His only Son down to Earth to die for our sins, it paved the way to our salvation. Because of that sacrifice, we are now all forgiven and free to live out our days in Heaven.
With Jesus' death, it ensured that none of us would be lost again. God would always be with us.
The Hatley Family does a beautiful job of performing this classic hymn. Their bluegrass rendition truly makes you hear each and every word and remember God's promise.
When we allow Christ into our hearts, we are opening ourselves up to a better life than we can ever imagine. Let His love and grace wash over you as you hear these lyrics in an entirely different way.
John 1:14 "And the Word became flesh and dwelt among us, and we have seen his glory, glory as of the only Son from the Father, full of grace and truth."
godtube-inspiration

11636 views

2019-03-13T10:00:19

source: Lovin' Bluegrass by Carol McDuffie The Hatley Family performs an incredible bluegrass rendition of 'Amazing Grace.' This classic hymn has truly stood the test of time and the powerful lyrics still ring out true today.

"Amazing Grace, How sweet the sound
That saved a wretch like me
I once was lost, but now am found
T'was blind but now I see
T'was Grace that taught my heart to fear
And Grace, my fears relieved
How precious did that grace appear
The hour I first believed"

There's a reason the hymn 'Amazing Grace' remains the favorite hymn for so many people. The powerful lyrics remind us that we are never lost.

When God sent His only Son down to Earth to die for our sins, it paved the way to our salvation. Because of that sacrifice, we are now all forgiven and free to live out our days in Heaven.

With Jesus' death, it ensured that none of us would be lost again. God would always be with us.

The Hatley Family does a beautiful job of performing this classic hymn. Their bluegrass rendition truly makes you hear each and every word and remember God's promise.

When we allow Christ into our hearts, we are opening ourselves up to a better life than we can ever imagine. Let His love and grace wash over you as you hear these lyrics in an entirely different way.

John 1:14 "And the Word became flesh and dwelt among us, and we have seen his glory, glory as of the only Son from the Father, full of grace and truth."
Today's Devotional
A Prayer for God's Greatness - Your Daily Prayer - March 25
Top Artists