'Christ Is Risen' Phil Wickham House Sessions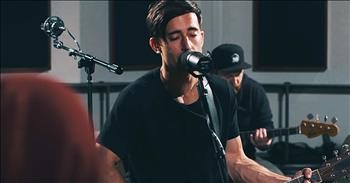 Acclaimed Christian artist Phil Wickham shares a special performance of 'Christ Is Risen.' This incredible song was originally released on Phil's 2018 'Living Hope' album. Today, Phil is performing a "House Session" of the single and it's a performance that you don't want to miss.

"Hallelujah
Christ is risen from the grave
Hallelujah
Christ is risen from the grave"
God gave us the gift of eternal life when He sent His only Son down to Earth to die for our sins. Because of that sacrifice, all of our sins are forgiven. God freed us from our chains and paved the way to Heaven. That is such a priceless gift and we should give thanks to Him each and every day. Phil Wickham's performance is the perfect way to praise God's holy name.
"The prodigal is welcomed home
The sinner now a saint
For the God who died came back to life
And everything is changed"
Let us gather together in worship and remember all that our Lord has done for us. When we lift our voices together, we are truly spreading His message to the world. Our Christ has risen and you can be saved too! What a beautiful blessing, indeed.
Luke 24: 6-7 "6 He is not here; he has risen! Remember how he told you, while he was still with you in Galilee: 7 'The Son of Man must be delivered over to the hands of sinners, be crucified and on the third day be raised again.' "
phil-wickham

1332 views

2019-03-05T11:17:53

source: Phil Wickham Music Acclaimed Christian artist Phil Wickham shares a special performance of 'Christ Is Risen.' This incredible song was originally released on Phil's 2018 'Living Hope' album. Today, Phil is performing a "House Session" of the single and it's a performance that you don't want to miss.

"Hallelujah
Christ is risen from the grave
Hallelujah
Christ is risen from the grave"

God gave us the gift of eternal life when He sent His only Son down to Earth to die for our sins. Because of that sacrifice, all of our sins are forgiven. God freed us from our chains and paved the way to Heaven. That is such a priceless gift and we should give thanks to Him each and every day. Phil Wickham's performance is the perfect way to praise God's holy name.

"The prodigal is welcomed home
The sinner now a saint
For the God who died came back to life
And everything is changed"

Let us gather together in worship and remember all that our Lord has done for us. When we lift our voices together, we are truly spreading His message to the world. Our Christ has risen and you can be saved too! What a beautiful blessing, indeed.

Luke 24: 6-7 "6 He is not here; he has risen! Remember how he told you, while he was still with you in Galilee: 7 'The Son of Man must be delivered over to the hands of sinners, be crucified and on the third day be raised again.' "
Today's Devotional
A Prayer for When Time Doesn't Heal a Broken Heart - Your Daily Prayer - July 2
Top Artists