Throwback Performance Of 'Jesus Take The Wheel' From Carrie Underwood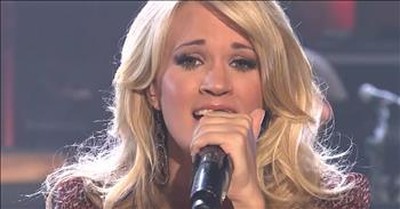 Take a look back at this 2009 performance of 'Jesus Take The Wheel' from country superstar Carrie Underwood.

Carrie originally released this iconic song in 2005 and gave her debut performance at the Country Music Association Awards that same year. This was the first single off of her debut album, Some Hearts.
Since that time, 'Jesus Take The Wheel' has won a number of awards, including 2 Grammys, and been covered by countless artists. Even though this performance was from ten years ago, you can still feel the weight and passion behind every single word.
"Jesus, take the wheel
Take it from my hands
'Cause I can't do this on my own
I'm letting go
So give me one more chance
And save me from this road I'm on
Jesus, take the wheel"
This throwback performance showcases Carrie singing at the Walmart Soundcheck in 2009. Carrie's career was starting to skyrocket and she paid homage to the song that started it all.
These powerful lyrics remind us all that when we feel overwhelmed by life, God is always right there to guide us. When we hand our burdens over to Him, He will shoulder the weight and lead us on the right path.
This song will go down in country music history and this classic performance is definitely one you don't want to miss.
Isaiah 30:21 "Whether you turn to the right or to the left, your ears will hear a voice behind you, saying, "This is the way; walk in it."
carrie-underwood

11808 views

2019-06-18T14:40:00

source: Carrie Underwood Take a look back at this 2009 performance of 'Jesus Take The Wheel' from country superstar Carrie Underwood.

Carrie originally released this iconic song in 2005 and gave her debut performance at the Country Music Association Awards that same year. This was the first single off of her debut album, Some Hearts.

Since that time, 'Jesus Take The Wheel' has won a number of awards, including 2 Grammys, and been covered by countless artists. Even though this performance was from ten years ago, you can still feel the weight and passion behind every single word.

"Jesus, take the wheel
Take it from my hands
'Cause I can't do this on my own
I'm letting go
So give me one more chance
And save me from this road I'm on
Jesus, take the wheel"

This throwback performance showcases Carrie singing at the Walmart Soundcheck in 2009. Carrie's career was starting to skyrocket and she paid homage to the song that started it all.

These powerful lyrics remind us all that when we feel overwhelmed by life, God is always right there to guide us. When we hand our burdens over to Him, He will shoulder the weight and lead us on the right path.

This song will go down in country music history and this classic performance is definitely one you don't want to miss.

Isaiah 30:21 "Whether you turn to the right or to the left, your ears will hear a voice behind you, saying, "This is the way; walk in it."

Today's Devotional
A Prayer to Remember That Joy Is a Way of Life - Your Daily Prayer - May 21
The Bible commands us, "be joyful aways!"
Top Artists
Top Music Videos