Acoustic 'What A Day That Will Be' From Country Singer Drew Parker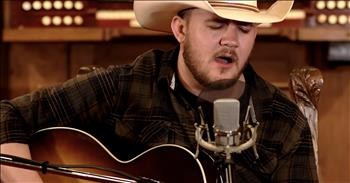 Rising country singer Drew Parker performs an acoustic rendition the classic hymn 'What A Day That Will Be' from the Nashville Vineyard Church in Tennessee. This gospel favorite reminds us all that even when we experience pain on Earth, in Heaven there shall be no heartache or sorrow.

"There is coming a day,
When no heart aches shall come,
No more clouds in the sky,
No more tears to dim the eye,
All is peace forever more,
On that happy golden shore,
What a day, glorious day that will be."
There's something about country music and gospel that goes together perfectly. And this artist knows how to blend the two flawlessly.
Just watch as Drew sits in front of a microphone, with his guitar in hand, and belts out these iconic words.
"What a day that will be,
When my Jesus I shall see,
And I look upon His face,
The One who saved me by His grace;
When He takes me by the hand,
And leads me through the Promised Land,
What a day, glorious day that will be."
On his Facebook page, Drew is described perfectly. "Aside from his cowboy hat and boots, Drew Parker is the definition of true country. He is genuine, honest, and carries an old soul that resonates with many. He is on the rise and sees no end."
With a voice like this and a heart for Jesus, there is no stopping this young artist.
John 14:2-4 "2 My Father's house has many rooms; if that were not so, would I have told you that I am going there to prepare a place for you? 3 And if I go and prepare a place for you, I will come back and take you to be with me that you also may be where I am. 4 You know the way to the place where I am going."
godtube-inspiration

16710 views

2019-06-19T15:56:40

source: Country Rebel Rising country singer Drew Parker performs an acoustic rendition the classic hymn 'What A Day That Will Be' from the Nashville Vineyard Church in Tennessee. This gospel favorite reminds us all that even when we experience pain on Earth, in Heaven there shall be no heartache or sorrow.

"There is coming a day,
When no heart aches shall come,
No more clouds in the sky,
No more tears to dim the eye,
All is peace forever more,
On that happy golden shore,
What a day, glorious day that will be."

There's something about country music and gospel that goes together perfectly. And this artist knows how to blend the two flawlessly.

Just watch as Drew sits in front of a microphone, with his guitar in hand, and belts out these iconic words.

"What a day that will be,
When my Jesus I shall see,
And I look upon His face,
The One who saved me by His grace;
When He takes me by the hand,
And leads me through the Promised Land,
What a day, glorious day that will be."

On his Facebook page, Drew is described perfectly. "Aside from his cowboy hat and boots, Drew Parker is the definition of true country. He is genuine, honest, and carries an old soul that resonates with many. He is on the rise and sees no end."

With a voice like this and a heart for Jesus, there is no stopping this young artist.

John 14:2-4 "2 My Father's house has many rooms; if that were not so, would I have told you that I am going there to prepare a place for you? 3 And if I go and prepare a place for you, I will come back and take you to be with me that you also may be where I am. 4 You know the way to the place where I am going."

Today's Devotional
A Prayer to Renew Your Mind - Your Daily Prayer - April 9
Top Artists