5-Year-Old Whose Dad Died Makes Surprise Phone Call To Heaven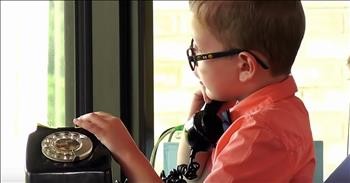 5-year-old Samuel makes a heartbreaking call to his father in Heaven. Samuel was just four years old when his father passed away from terminal cancer.

On a segment with Channel 4 about children's heroes, Samuel brings up his dad. While standing in front of his class, Samuel remembers some of the fond memories such as sitting on his father's shoulders or getting extra chocolate. But then Samuel reveals that his father is no longer on Earth, but in Heaven. Even though it was a very difficult time, Samuel's positive attitude helped other family members get through the process.
The cameras even captured this sweet little boy making a phone call to Heaven to speak with his father. He tells his dad about his day and even asks what he is doing in Heaven. The innocence of this loving child will bring almost anyone to tears.
Revelation 21:4-7 "4 'He will wipe every tear from their eyes. There will be no more death' or mourning or crying or pain, for the old order of things has passed away." 5He who was seated on the throne said, "I am making everything new!" Then he said, "Write this down, for these words are trustworthy and true." 6 He said to me: "It is done. I am the Alpha and the Omega, the Beginning and the End. To the thirsty I will give water without cost from the spring of the water of life. 7 Those who are victorious will inherit all this, and I will be their God and they will be my children."
godtube-inspiration

1701 views

2019-06-03T13:08:11

source: Channel 4 5-year-old Samuel makes a heartbreaking call to his father in Heaven. Samuel was just four years old when his father passed away from terminal cancer.

On a segment with Channel 4 about children's heroes, Samuel brings up his dad. While standing in front of his class, Samuel remembers some of the fond memories such as sitting on his father's shoulders or getting extra chocolate. But then Samuel reveals that his father is no longer on Earth, but in Heaven. Even though it was a very difficult time, Samuel's positive attitude helped other family members get through the process.

The cameras even captured this sweet little boy making a phone call to Heaven to speak with his father. He tells his dad about his day and even asks what he is doing in Heaven. The innocence of this loving child will bring almost anyone to tears.

Revelation 21:4-7 "4 'He will wipe every tear from their eyes. There will be no more death' or mourning or crying or pain, for the old order of things has passed away." 5He who was seated on the throne said, "I am making everything new!" Then he said, "Write this down, for these words are trustworthy and true." 6 He said to me: "It is done. I am the Alpha and the Omega, the Beginning and the End. To the thirsty I will give water without cost from the spring of the water of life. 7 Those who are victorious will inherit all this, and I will be their God and they will be my children."

Today's Devotional
A Prayer for Your Aging Parent - Your Daily Prayer - October 19
Top Artists