Christian Artist Lauryn Evans Sings 'Butterfly Kisses' For Dad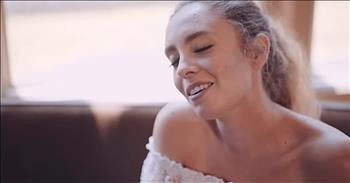 Up and coming Christian artist Lauryn Evans sings the classic Bob Carlise song 'Butterfly Kisses.'

The song was originally written for Bob's daughter on her 16th birthday. It quickly became a number one song on the Adult Contemporary chart and even won a Dove and Grammy award.
The touching song has truly stood the test of time and continues to spur covers year after year. The powerful lyrics remind us of the special relationship between a father and his daughter.
"There's two things I know for sure
She was sent here from heaven
And she's daddy's little girl
As I drop to my knees by her bed at night
She talks to Jesus, and I close my eyes.
And I thank God for all of the joy in my life
Oh, but most of all, for
For butterfly kisses after bedtime prayer"
Today, Lauryn Evans is lending her vocals to 'Butterfly Kisses' and it's absolutely amazing. You may recognize Lauryn as a former member of the hit Christian band, 1 Girl Nation. The group's debut album climbed the Billboard charts and they received much praise.
Lauryn has been singing from a very young age and even taught herself to play the guitar when she was just 15. Over the years, Lauryn has written many songs and created her own unique style of sound.
Once the group broke up, Lauryn decided to embark on a solo career. Through her music, this talented young singer hopes to spread positivity and the message of God.
She is the perfect voice to compliment the sweet words of this classic song. And Lauryn is belting out the lyrics for her own father. What a beautiful cover of 'Butterfly Kisses.'
Happy Fathers Day 🦋😘😭 iTunes: https://apple.co/2Ko80um Spotify: https://spoti.fi/2INyzG0

Posted by Lauryn Evans on Saturday, June 15, 2019
GodTube-Music

916 views

2019-06-17T15:55:09

source: Lauryn Evans Up and coming Christian artist Lauryn Evans sings the classic Bob Carlise song 'Butterfly Kisses.'

The song was originally written for Bob's daughter on her 16th birthday. It quickly became a number one song on the Adult Contemporary chart and even won a Dove and Grammy award.

The touching song has truly stood the test of time and continues to spur covers year after year. The powerful lyrics remind us of the special relationship between a father and his daughter.

"There's two things I know for sure
She was sent here from heaven
And she's daddy's little girl
As I drop to my knees by her bed at night
She talks to Jesus, and I close my eyes.
And I thank God for all of the joy in my life
Oh, but most of all, for
For butterfly kisses after bedtime prayer"

Today, Lauryn Evans is lending her vocals to 'Butterfly Kisses' and it's absolutely amazing. You may recognize Lauryn as a former member of the hit Christian band, 1 Girl Nation. The group's debut album climbed the Billboard charts and they received much praise.

Lauryn has been singing from a very young age and even taught herself to play the guitar when she was just 15. Over the years, Lauryn has written many songs and created her own unique style of sound.

Once the group broke up, Lauryn decided to embark on a solo career. Through her music, this talented young singer hopes to spread positivity and the message of God.

She is the perfect voice to compliment the sweet words of this classic song. And Lauryn is belting out the lyrics for her own father. What a beautiful cover of 'Butterfly Kisses.'

Suggested For You
---
Related Videos
---
Today's Devotional
A Prayer to Stop the Rush and Let Go of the Stress This Christmas - Your Daily Prayer - December 8
Top Artists