A Cappella Rendition Of 'Jesus Is Coming Again' By Kaoma Chende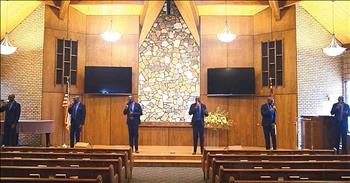 Talented a cappella voice Kaoma Chende belts out the words to the classic hymn 'Jesus Is Coming Again.'

This worship song was originally written by Jessie E. Strout. The upbeat words remind us all that Jesus is coming back and what a glorious day that will be.
"Lift up the trumpet and loud let it ring:
Jesus is coming again!
Take heart, ye pilgrims, rejoice now and sing:
Jesus is coming again!
Coming again, coming again,
Jesus is coming again!"
This is one of those hymns that you don't hear as often as you'd like. The words of 'Jesus Is Coming Again' are so poignant and Kaoma is the perfect voice to sing them all out.
This talented artist always finds the most beautiful hymns to compliment his unique vocals. And he performs all of his songs a cappella, which is no easy task. But I am sure that this is one hymn that you will be singing along with in no time.
"Shout from the hilltops the joyful refrain:
Jesus is coming again!
Coming in glory the Lamb that was slain:
Jesus is coming again!"
1 Thessalonians 4:16-17 "For the Lord himself will descend from heaven with a cry of command, with the voice of an archangel, and with the sound of the trumpet of God. And the dead in Christ will rise first. Then we who are alive, who are left, will be caught up together with them in the clouds to meet the Lord in the air, and so we will always be with the Lord."
GodTube-Music

916 views

2019-09-05T14:48:04

source: Kaoma Talented a cappella voice Kaoma Chende belts out the words to the classic hymn 'Jesus Is Coming Again.'

This worship song was originally written by Jessie E. Strout. The upbeat words remind us all that Jesus is coming back and what a glorious day that will be.

"Lift up the trumpet and loud let it ring:
Jesus is coming again!
Take heart, ye pilgrims, rejoice now and sing:
Jesus is coming again!
Coming again, coming again,
Jesus is coming again!"

This is one of those hymns that you don't hear as often as you'd like. The words of 'Jesus Is Coming Again' are so poignant and Kaoma is the perfect voice to sing them all out.

This talented artist always finds the most beautiful hymns to compliment his unique vocals. And he performs all of his songs a cappella, which is no easy task. But I am sure that this is one hymn that you will be singing along with in no time.

"Shout from the hilltops the joyful refrain:
Jesus is coming again!
Coming in glory the Lamb that was slain:
Jesus is coming again!"

1 Thessalonians 4:16-17 "For the Lord himself will descend from heaven with a cry of command, with the voice of an archangel, and with the sound of the trumpet of God. And the dead in Christ will rise first. Then we who are alive, who are left, will be caught up together with them in the clouds to meet the Lord in the air, and so we will always be with the Lord."

Today's Devotional
A Prayer for Loved Ones Who Are Far from God - Your Daily Prayer - September 22
Top Artists