'Who Am I' Live Performance From Casting Crowns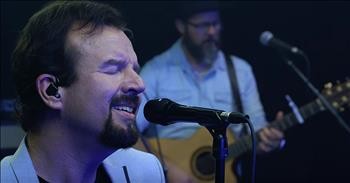 Christian group Casting Crowns reminds us of God's glory with a live performance of 'Who Am I.' This classic worship song has touched so many hearts all over the world and the words continue to ring true today.

"Who am I, that the lord of all the earth
Would care to know my name
Would care to feel my hurt?
Who am I, that the bright and morning star
Would choose to light the way
For my ever wandering heart?"
This powerful song was originally released in 2004 from the band's debut album. It went on to win multiple Dove Awards and accolades. Now, Casting Crowns is at the YouTube Space in New York for an incredible live performance of this modern day classic.
"Not because of who I am
But because of what you've done
Not because of what I've done
But because of who you are"
There is truly no one like our Father in Heaven. He has given us so many blessings in our lives, even when we do not deserve them. Because of His grace, we are forgiven of our sins and will live out our days in Heaven.
That is such a special gift that deserves never-ending praise. This Casting Crowns song is the perfect way to give glory to God for all to hear.
Ephesians 2:8-9 "For it is by grace you have been saved, through faith—and this is not from yourselves, it is the gift of God— 9 not by works, so that no one can boast."
casting-crowns

2359 views

2019-08-13T13:57:45

source: Casting Crowns Christian group Casting Crowns reminds us of God's glory with a live performance of 'Who Am I.' This classic worship song has touched so many hearts all over the world and the words continue to ring true today.

"Who am I, that the lord of all the earth
Would care to know my name
Would care to feel my hurt?
Who am I, that the bright and morning star
Would choose to light the way
For my ever wandering heart?"

This powerful song was originally released in 2004 from the band's debut album. It went on to win multiple Dove Awards and accolades. Now, Casting Crowns is at the YouTube Space in New York for an incredible live performance of this modern day classic.

"Not because of who I am
But because of what you've done
Not because of what I've done
But because of who you are"

There is truly no one like our Father in Heaven. He has given us so many blessings in our lives, even when we do not deserve them. Because of His grace, we are forgiven of our sins and will live out our days in Heaven.

That is such a special gift that deserves never-ending praise. This Casting Crowns song is the perfect way to give glory to God for all to hear.

Ephesians 2:8-9 "For it is by grace you have been saved, through faith—and this is not from yourselves, it is the gift of God— 9 not by works, so that no one can boast."

Today's Devotional
A Prayer to Kill the Sin of Gossip in Your Life - Your Daily Prayer - December 15
Top Artists