'Praise Is The Highway' Chris Tomlin Acoustic Performance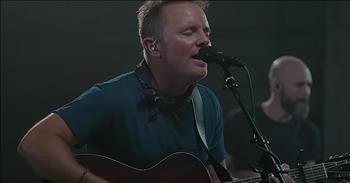 Grammy and Dove award-winning artist Chris Tomlin performs an acoustic rendition of his single 'Praise Is The Highway.'

Chris steps into the legendary New Song Care to share this special song and the story behind the powerful words.
"The rocks will cry out, the oceans will roar
The mountains will bow to the name of the Lord
He is our God, He will be praised
The idols will fall, the strongholds will break
Every weapon that forms will shatter and fail
He is our God, He is our faith"
'Praise Is The Highway' is featured on Chris Tomlin's latest album, 'Holy Roar.'
As one of the most popular modern-day Christian artists, Chris' music is performed in churches all over the world. His songs such as 'How Great Is Our God' and 'Good Good Father' are now staples in worship services.
Speaking to Billboard, Chris said, "Every week not millions, but billions of people are gathering around the world to worship God together and there's always music involved. To be a little part of that is just amazing, so I don't think that speaks to me as much as it speaks to the church and what's really happening around the world."
Through it all, Chris continues to use his musical platform to spread the message of God's love to the multitudes. Just like the lyrics go, "Praise is the highway to the throne of God, Praise is the highway to the heart of God, Praise is the highway to the move of God."
chris-tomlin

4465 views

2019-04-24T14:26:27

source: Worship Together Grammy and Dove award-winning artist Chris Tomlin performs an acoustic rendition of his single 'Praise Is The Highway.'

Chris steps into the legendary New Song Care to share this special song and the story behind the powerful words.

"The rocks will cry out, the oceans will roar
The mountains will bow to the name of the Lord
He is our God, He will be praised
The idols will fall, the strongholds will break
Every weapon that forms will shatter and fail
He is our God, He is our faith"

'Praise Is The Highway' is featured on Chris Tomlin's latest album, 'Holy Roar.'

As one of the most popular modern-day Christian artists, Chris' music is performed in churches all over the world. His songs such as 'How Great Is Our God' and 'Good Good Father' are now staples in worship services.

Speaking to Billboard, Chris said, "Every week not millions, but billions of people are gathering around the world to worship God together and there's always music involved. To be a little part of that is just amazing, so I don't think that speaks to me as much as it speaks to the church and what's really happening around the world."

Through it all, Chris continues to use his musical platform to spread the message of God's love to the multitudes. Just like the lyrics go, "Praise is the highway to the throne of God, Praise is the highway to the heart of God, Praise is the highway to the move of God."
Today's Devotional
A Prayer for Rest from the Need to Prove Ourselves - Your Daily Prayer - October 22
Top Artists