'Open Heaven (River Wild)' Hillsong Worship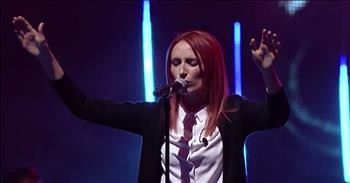 Dove award-winning group Hillsong Worship perform a live rendition of their single, 'Open Heaven (River Wild).'

Hillsong is one of the most recognizable names in Christian music. Time after time, their powerful lyrics touch millions of hearts all over the world. 'Open Heaven (River Wild)' works to remind us that His love is greater than anything we could ever imagine.
"Holy Spirit rain
Falling like a flood
Break upon my praise
As I sing of Your love
Holy Spirit fire
Burn within my soul
As I call on Your Name
As I call on Your Name"
HIllsong Worship started making music back in 1983. At first, they just performed at their home church, in Sydney Australis. But as their music popularity grew, the group decided to share their talents with the world.
Their first album was released in 1988 and, since that time, Hillsong has become a name synonymous with Christian worship anthems.
'Open Heaven (River Wild)' is featured on their 2015 album of the same name. These poignant lyrics will truly break open your heart and let the Lord's love flow freely.
We should run to God as our source of peace. He is our light, our strength and our rock to stand upon. What an amazing Father we serve!
1 Chronicles 29:11 "Yours, O LORD, is the greatness and the power and the glory and the victory and the majesty, for all that is in the heavens and in the earth is yours. Yours is the kingdom, O LORD, and you are exalted as head above all."
Embed

hillsong-worship

4230 views

2019-04-02T15:50:00

Dove award-winning group Hillsong Worship perform a live rendition of their single, 'Open Heaven (River Wild).'

Hillsong is one of the most recognizable names in Christian music. Time after time, their powerful lyrics touch millions of hearts all over the world. 'Open Heaven (River Wild)' works to remind us that His love is greater than anything we could ever imagine.

"Holy Spirit rain
Falling like a flood
Break upon my praise
As I sing of Your love
Holy Spirit fire
Burn within my soul
As I call on Your Name
As I call on Your Name"

HIllsong Worship started making music back in 1983. At first, they just performed at their home church, in Sydney Australis. But as their music popularity grew, the group decided to share their talents with the world.

Their first album was released in 1988 and, since that time, Hillsong has become a name synonymous with Christian worship anthems.

'Open Heaven (River Wild)' is featured on their 2015 album of the same name. These poignant lyrics will truly break open your heart and let the Lord's love flow freely.

We should run to God as our source of peace. He is our light, our strength and our rock to stand upon. What an amazing Father we serve!

1 Chronicles 29:11 "Yours, O LORD, is the greatness and the power and the glory and the victory and the majesty, for all that is in the heavens and in the earth is yours. Yours is the kingdom, O LORD, and you are exalted as head above all."
Today's Devotional
A Prayer for Strength to Endure - Your Daily Prayer - May 29
Top Artists