'Sing To The Lord (Banner)' Pat Barrett Acoustic Performance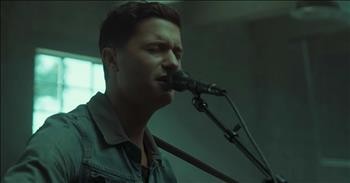 Critically acclaimed singer and songwriter Pat Barrett performs an acoustic rendition of 'Sing To The Lord (Banner).' After this beautiful performance, we also learn the story behind these powerful lyrics and how to play it at home.

"Great is the Lord, we cry
And greatly to be praised
Let every nation rise and say
Our God reigns, our God reigns"
There's no doubt that Pat Barrett is a talented musician. Over the years, he has written and performed hits such as 'Good Good Father' and 'My Hallelujah.' Many of Pat's song have become modern-day staples in church services all over the world and countless Christian artists have covered or performed his songs.
Today, he's performing a special acoustic version of his single, 'Sing To The Lord (Banner).' There's truly something amazing about hearing a worship song stripped down and simplified.
"Sing to the Lord a new song
Worship the Lord evermore
In the glory of His majesty
The glory of His majesty"
These words will reach right into your heart and remind us all that His glory and power. There is truly no one like our God and He reigns over the land. His grace and love washes down and blesses each and every one of us. What a beautiful blessing to serve such an amazing Father!
Colossians 3:16 "Let the message of Christ dwell among you richly as you teach and admonish one another with all wisdom through psalms, hymns, and songs from the Spirit, singing to God with gratitude in your hearts."
pat-barrett

2015 views

2019-05-24T14:08:35

source: Pat Barrett Critically acclaimed singer and songwriter Pat Barrett performs an acoustic rendition of 'Sing To The Lord (Banner).' After this beautiful performance, we also learn the story behind these powerful lyrics and how to play it at home.

"Great is the Lord, we cry
And greatly to be praised
Let every nation rise and say
Our God reigns, our God reigns"

There's no doubt that Pat Barrett is a talented musician. Over the years, he has written and performed hits such as 'Good Good Father' and 'My Hallelujah.' Many of Pat's song have become modern-day staples in church services all over the world and countless Christian artists have covered or performed his songs.

Today, he's performing a special acoustic version of his single, 'Sing To The Lord (Banner).' There's truly something amazing about hearing a worship song stripped down and simplified.

"Sing to the Lord a new song
Worship the Lord evermore
In the glory of His majesty
The glory of His majesty"

These words will reach right into your heart and remind us all that His glory and power. There is truly no one like our God and He reigns over the land. His grace and love washes down and blesses each and every one of us. What a beautiful blessing to serve such an amazing Father!

Colossians 3:16 "Let the message of Christ dwell among you richly as you teach and admonish one another with all wisdom through psalms, hymns, and songs from the Spirit, singing to God with gratitude in your hearts."

Today's Devotional
A Prayer for Patience & Peace - Your Daily Prayer - October 7
Top Artists