'Spend A Life' David Dunn Acoustic Performance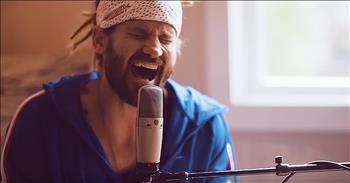 Contemporary Christian artist David Dunn performs an acoustic rendition of his hit song 'Spend A Life.' These powerful lyrics reminds us all that our time on Earth is a blessing and we should use that time to praise His name.

"All I have is what You gave
Watching seconds turn to days
I was made for more then just to watch it fly
A few more turns around the sun
Could be hundreds could be one
Show me how to spend the treasure of my time
Show me how to spend a life"
We first met David Dunn back in 2012 when he competed on the second season of The Voice. Even though he didn't make it past the blind auditions, his talented vocals caught the attention of record label executives. Since that time, David has given us incredible worship songs such as 'I Wanna Go Back' and 'Grace Will Lead Me Home.'
Today, David is performing a special acoustic rendition of his latest single, 'Spend A Life.' God has truly given us so many blessings on this Earth. When we take the time to pause and reflect on all He has done for us, we are overwhelmed by His love and kindness. Use this worship song to sing praises to His name and tell the world of all of God's many wonders.
Jeremiah 29:11 "For I know the plans I have for you," declares the LORD, "plans to prosper you and not to harm you, plans to give you hope and a future."
GodTube-Music

3031 views

2019-05-21T10:19:05

source: David Dunn Contemporary Christian artist David Dunn performs an acoustic rendition of his hit song 'Spend A Life.' These powerful lyrics reminds us all that our time on Earth is a blessing and we should use that time to praise His name.

"All I have is what You gave
Watching seconds turn to days
I was made for more then just to watch it fly
A few more turns around the sun
Could be hundreds could be one
Show me how to spend the treasure of my time
Show me how to spend a life"

We first met David Dunn back in 2012 when he competed on the second season of The Voice. Even though he didn't make it past the blind auditions, his talented vocals caught the attention of record label executives. Since that time, David has given us incredible worship songs such as 'I Wanna Go Back' and 'Grace Will Lead Me Home.'

Today, David is performing a special acoustic rendition of his latest single, 'Spend A Life.' God has truly given us so many blessings on this Earth. When we take the time to pause and reflect on all He has done for us, we are overwhelmed by His love and kindness. Use this worship song to sing praises to His name and tell the world of all of God's many wonders.

Jeremiah 29:11 "For I know the plans I have for you," declares the LORD, "plans to prosper you and not to harm you, plans to give you hope and a future."

Today's Devotional
A Prayer for When Time Doesn't Heal a Broken Heart - Your Daily Prayer - July 2
Top Artists