Josh Turner, Darius Rucker And Diamond Rio Sing 'Me And God'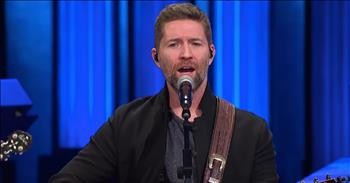 Darius Rucker and Diamond Rio join country artist Josh Turner on stage for a performance of 'Me And God.' This single was written and recorded by Josh in 2006. Today, this faith-filled song is being played on the Grand Ole Opry stage and it's absolutely incredible.

"He's my father
He's my friend
The beginning
And the end
He rules the world
With a staff and rod
We're a team
Me and God"
In 2018, Josh released his first gospel album, which is full of beautiful hymns and original recordings. Since that time, this popular musician has been sharing the Word of God all over the country. Josh has always been open about the importance of faith in his life. 'Me And God' was one of his first singles that touched on the subject of faith and, now, he's dedicating a whole album to the Lord.
"I am weak, and he is strong
Me and God
He forgives me when I'm wrong
Me and God
He's the one I lean on
When life gets hard
Me and God"
While on the Grand Ole Opry stage, Josh stands alongside country greats Diamond Rio and Darius Rucker. It's so incredible to hear all of these iconic voices belt out this praise for our God. I pray that others will hear this song and be reminded that with God by our side, nothing is too great to face.
Psalm 95:1 "Come, let us sing for joy to the LORD; let us shout aloud to the Rock of our salvation."
GodTube-Music

5503 views

2019-05-07T10:13:00

source: Grand Ole Opry Darius Rucker and Diamond Rio join country artist Josh Turner on stage for a performance of 'Me And God.' This single was written and recorded by Josh in 2006. Today, this faith-filled song is being played on the Grand Ole Opry stage and it's absolutely incredible.

"He's my father
He's my friend
The beginning
And the end
He rules the world
With a staff and rod
We're a team
Me and God"

In 2018, Josh released his first gospel album, which is full of beautiful hymns and original recordings. Since that time, this popular musician has been sharing the Word of God all over the country. Josh has always been open about the importance of faith in his life. 'Me And God' was one of his first singles that touched on the subject of faith and, now, he's dedicating a whole album to the Lord.

"I am weak, and he is strong
Me and God
He forgives me when I'm wrong
Me and God
He's the one I lean on
When life gets hard
Me and God"

While on the Grand Ole Opry stage, Josh stands alongside country greats Diamond Rio and Darius Rucker. It's so incredible to hear all of these iconic voices belt out this praise for our God. I pray that others will hear this song and be reminded that with God by our side, nothing is too great to face.

Psalm 95:1 "Come, let us sing for joy to the LORD; let us shout aloud to the Rock of our salvation."

Today's Devotional
A Prayer for When Life Doesn't Turn Out the Way You Expect - Your Daily Prayer - June 18
Top Artists