Craig Morgan 'The Father, My Son and The Holy Ghost' Remembers Late Son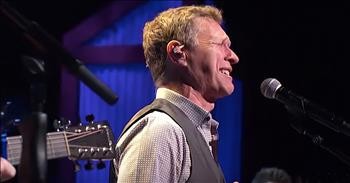 Craig Morgan is turning tragedy into hope with his emotional new song, "The Father, My Son and The Holy Ghost."

In 2016, this country superstar experienced the biggest loss when his 19-year-old son, Jerry, died in a boating accident. Jerry had just graduated high school and, about to head to college, his future was looking bright.
The Morgan family, and many of Craig's fans all over the world, felt the weight of Jerry's death. Now, three years later, Craig is singing about how his faith helps him cope with the empty space in his heart.
"I cried and cried and cried until I passed out on the floor
Then I prayed and prayed and prayed till I thought I couldn't pray anymore
And minute by minute, day by day, my God, He gave me hope
I know my boy ain't here but he ain't gone"
In an interview with CMT, Craig described how the lyrics of the song came to him in the middle of the night. It took him less than four hours to finish the entire song, but he was unsure if he would ever be able to actually sing the emotional words.
But with God by his side, Craig wanted the world to hear of Jerry's light and the Lord's strength in times of need. "This was the first time I tried to write about Jerry. Christianity has always worked its way into my music — like in "That's What I Love About Sunday" — but it was never the meat of the song. This song is 100 percent about my faith and confidence in Christ. A dark as it may be, where there's darkness there is light. This is the first time I've done anything that is this Christian based."
"In the mornings I wake up, give her a kiss, head to the kitchen
Pour a cup of wake-me-up and try to rouse up some ambition
Go outside, sit by myself but I ain't alone
See, I've got the Father, my son, and the Holy Ghost"
As Craig performed this powerful song at the Grand Ole Opry, he visibly fought back tears. "I'm just grateful God has blessed me with the words, and I'm grateful that I got what I got with my son. I'm looking forward to seeing him again."
GodTube-Music

13158 views

2019-09-09T15:53:00

source: Grand Ole Opry Craig Morgan is turning tragedy into hope with his emotional new song, "The Father, My Son and The Holy Ghost."

In 2016, this country superstar experienced the biggest loss when his 19-year-old son, Jerry, died in a boating accident. Jerry had just graduated high school and, about to head to college, his future was looking bright.

The Morgan family, and many of Craig's fans all over the world, felt the weight of Jerry's death. Now, three years later, Craig is singing about how his faith helps him cope with the empty space in his heart.

"I cried and cried and cried until I passed out on the floor
Then I prayed and prayed and prayed till I thought I couldn't pray anymore
And minute by minute, day by day, my God, He gave me hope
I know my boy ain't here but he ain't gone"

In an interview with CMT, Craig described how the lyrics of the song came to him in the middle of the night. It took him less than four hours to finish the entire song, but he was unsure if he would ever be able to actually sing the emotional words.

But with God by his side, Craig wanted the world to hear of Jerry's light and the Lord's strength in times of need. "This was the first time I tried to write about Jerry. Christianity has always worked its way into my music — like in "That's What I Love About Sunday" — but it was never the meat of the song. This song is 100 percent about my faith and confidence in Christ. A dark as it may be, where there's darkness there is light. This is the first time I've done anything that is this Christian based."

"In the mornings I wake up, give her a kiss, head to the kitchen
Pour a cup of wake-me-up and try to rouse up some ambition
Go outside, sit by myself but I ain't alone
See, I've got the Father, my son, and the Holy Ghost"

As Craig performed this powerful song at the Grand Ole Opry, he visibly fought back tears. "I'm just grateful God has blessed me with the words, and I'm grateful that I got what I got with my son. I'm looking forward to seeing him again."

Today's Devotional
A Prayer for Loved Ones Who Are Far from God - Your Daily Prayer - September 22
Top Artists