What Would You Do Records Reactions To Man Shamed For Bagging Groceries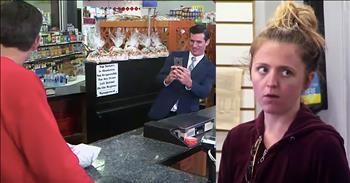 The social experiment show 'What Would You Do?' takes an emotional turn when strangers stand up for a man being 'job-shamed' for working at a grocery store.

'What Would You Do?' is a popular hidden camera television show hosted by John Qui'ones. The show is notable for putting strangers in difficult situations and then recording their reactions.
Each episode gives us a glimpse into the response of the public, which can be unpredictable from respond from episode to episode. Sometimes, there is anger while other times there may be a flood of tear. Many of the episodes are inspired by real life events or news stories.
Today's episode is ripped straight from the headlines. Recently, actor Geoffrey Owens found himself in the middle of a viral phenomenon. Geoffrey is best known for his role on 'The Cosby Show.' But, when work became slower, this actor still needed to take care of his family. That's when he picked up a part-time job at his local Trader Joe's grocery store.
They offered him the flexibility that he needed to go on auditions and he was able to make money to support the family. But when someone snapped a photo of Geoffrey at work, it immediately went viral.
The term 'job-shaming' was used as some looked negatively on this hard-working may doing what it takes to pay the bills. 'What Would You Do?' sets up this exact scenario with two actors posing as former co-workers.
When the 'successful' real estate agent spots his old colleague bagging groceries, he starts to hurl insults. But one by one, other shoppers step up and speak out for the worker. And there is one particular moment that stood out above the rest.
After John reveals the nature of the show, a woman had this final thought. "Treat everybody with kindness. Every day you turn on the TV and you hear so much sadness. Just love each other and respect each other."
godtube-inspiration

705 views

2019-09-09T16:02:41

source: What Would You Do? The social experiment show 'What Would You Do?' takes an emotional turn when strangers stand up for a man being 'job-shamed' for working at a grocery store.

'What Would You Do?' is a popular hidden camera television show hosted by John Qui'ones. The show is notable for putting strangers in difficult situations and then recording their reactions.

Each episode gives us a glimpse into the response of the public, which can be unpredictable from respond from episode to episode. Sometimes, there is anger while other times there may be a flood of tear. Many of the episodes are inspired by real life events or news stories.

Today's episode is ripped straight from the headlines. Recently, actor Geoffrey Owens found himself in the middle of a viral phenomenon. Geoffrey is best known for his role on 'The Cosby Show.' But, when work became slower, this actor still needed to take care of his family. That's when he picked up a part-time job at his local Trader Joe's grocery store.

They offered him the flexibility that he needed to go on auditions and he was able to make money to support the family. But when someone snapped a photo of Geoffrey at work, it immediately went viral.

The term 'job-shaming' was used as some looked negatively on this hard-working may doing what it takes to pay the bills. 'What Would You Do?' sets up this exact scenario with two actors posing as former co-workers.

When the 'successful' real estate agent spots his old colleague bagging groceries, he starts to hurl insults. But one by one, other shoppers step up and speak out for the worker. And there is one particular moment that stood out above the rest.

After John reveals the nature of the show, a woman had this final thought. "Treat everybody with kindness. Every day you turn on the TV and you hear so much sadness. Just love each other and respect each other."
Today's Devotional
A Prayer for When Others Have What You Want - Your Daily Prayer - February 23
Top Artists