'Hymn Of The Holy Spirit / I Will Follow' Pat Barrett Spontaneous Worship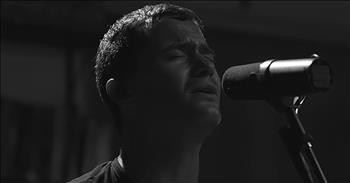 Talented Christian artist Pat Barrett performs a live rendition of 'Hymn Of The Holy Spirit' and 'I Will Follow.'

This display of spontaneous worship truly reminds us of the love that comes from the Father.
"You're the light, You're my path
You're the shepherd of my soul
All I am, all I have
Holy Spirit, lead me on"
Pat Barrett is a gifted singer and songwriter. He is most notable for writing the modern day worship song, 'Good Good Father.' After fellow Christian artist, Chris Tomlin, recorded the tune, it became a mega-hit performed all over the world.
Today, Pat is leading worship with a beautiful medley of 'Hymn Of The Holy Spirit' and 'I Will Follow.' Just listen as he belts out these words of praise to our King.
"Holy Spirit, lead me onward
Walking through the great unknown
Trusting, leaning, holding, clinging
Till the day You lead me home"
There is truly no one like our God and, with His strength by our side, there is nothing that can stand in our way.
Psalm 25: 5-9 "Lead me in your truth and teach me, for you are the God of my salvation; for you I wait all the day long. Remember your mercy, O LORD, and your steadfast love, for they have been from of old. Remember not the sins of my youth or my transgressions; according to your steadfast love remember me, for the sake of your goodness, O LORD! Good and upright is the LORD; therefore he instructs sinners in the way. He leads the humble in what is right, and teaches the humble his way."
pat-barrett

798 views

2019-09-13T09:51:11

source: Pat Barrett Talented Christian artist Pat Barrett performs a live rendition of 'Hymn Of The Holy Spirit' and 'I Will Follow.'

This display of spontaneous worship truly reminds us of the love that comes from the Father.

"You're the light, You're my path
You're the shepherd of my soul
All I am, all I have
Holy Spirit, lead me on"

Pat Barrett is a gifted singer and songwriter. He is most notable for writing the modern day worship song, 'Good Good Father.' After fellow Christian artist, Chris Tomlin, recorded the tune, it became a mega-hit performed all over the world.

Today, Pat is leading worship with a beautiful medley of 'Hymn Of The Holy Spirit' and 'I Will Follow.' Just listen as he belts out these words of praise to our King.

"Holy Spirit, lead me onward
Walking through the great unknown
Trusting, leaning, holding, clinging
Till the day You lead me home"

There is truly no one like our God and, with His strength by our side, there is nothing that can stand in our way.

Psalm 25: 5-9 "Lead me in your truth and teach me, for you are the God of my salvation; for you I wait all the day long. Remember your mercy, O LORD, and your steadfast love, for they have been from of old. Remember not the sins of my youth or my transgressions; according to your steadfast love remember me, for the sake of your goodness, O LORD! Good and upright is the LORD; therefore he instructs sinners in the way. He leads the humble in what is right, and teaches the humble his way."

Today's Devotional
A Prayer for Courage - Your Daily Prayer - January 20
Top Artists