'Way Maker' Quarantine Cover From The 4 Men Of Mass Anthem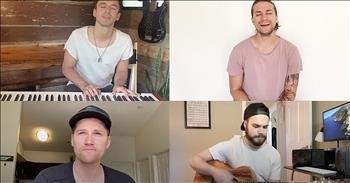 The four talented men of Mass Anthem lead us in worship with an at-home performance of the smash hit 'Way Maker.'

This powerful song was originally recorded by Nigerian gospel singer, Sinach. Contemporary Christian artist Michael W. Smith also released a version of the song, which helped propel it to greater popularity.
Now, artists from all over the world are lending their voices to this beautiful song.
"You are
Way maker, miracle worker, promise keeper
Light in the darkness, my God
That is who You are"
Mass Anthem is a Christian band comprised of brothers Chad and Tyler Sowards, Joey Atansio and Jason Braun. Over the years, they've used their online platform to share the word of God through beautiful covers and inspiring original songs.
Today, they're taking on the spirit-filled lyrics of 'Way Maker.' And what makes this performance even more special is that band members are performing from their own home.
Just listen as each man belts their heart to these powerful words of praise to our King.
"You are here, touching every heart
I worship You
I worship You"
This song is truly our cry to Lord. He is the source of our light and our strength and 'Way Maker' is the perfect way to lift His Holy Name up for the whole world to hear.
Isaiah 41:10 "Fear not, for I am with you; be not dismayed, for I am your God; I will strengthen you, I will help you, I will uphold you with my righteous right hand."
mass-anthem

492 views

2020-06-15T09:24:00

source: Mass Anthem The four talented men of Mass Anthem lead us in worship with an at-home performance of the smash hit 'Way Maker.'

This powerful song was originally recorded by Nigerian gospel singer, Sinach. Contemporary Christian artist Michael W. Smith also released a version of the song, which helped propel it to greater popularity.

Now, artists from all over the world are lending their voices to this beautiful song.

"You are
Way maker, miracle worker, promise keeper
Light in the darkness, my God
That is who You are"

Mass Anthem is a Christian band comprised of brothers Chad and Tyler Sowards, Joey Atansio and Jason Braun. Over the years, they've used their online platform to share the word of God through beautiful covers and inspiring original songs.

Today, they're taking on the spirit-filled lyrics of 'Way Maker.' And what makes this performance even more special is that band members are performing from their own home.

Just listen as each man belts their heart to these powerful words of praise to our King.

"You are here, touching every heart
I worship You
I worship You"

This song is truly our cry to Lord. He is the source of our light and our strength and 'Way Maker' is the perfect way to lift His Holy Name up for the whole world to hear.

Isaiah 41:10 "Fear not, for I am with you; be not dismayed, for I am your God; I will strengthen you, I will help you, I will uphold you with my righteous right hand."

Today's Devotional
A Prayer of Praise for Worn Out Bibles - Your Daily Prayer - September 19I live in this book, with this book, and by this book. Like our verse in Hebrews says, God's word to me is "alive and active."
Top Artists