17-Year-Old Kansas Snake Hunter Charms The Judges With Country Audition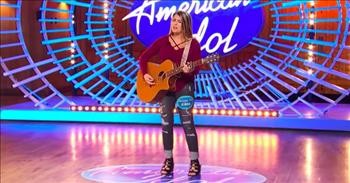 A 17-year-old snake hunter from Kansas impressed the judges with her country audition on American Idol.

MaKayla is a high school student from the country who has a thing for snakes. "Now, what do you do with the snakes?" Luke Bryan asks her after she says that she is a snake hunter.
"Oh, I just catch them, take pictures with them, and then throw them back," says MaKayla.
"You just go out with a flashlight at night, go in the water, and catch a snake?" asks Lionel Richie. The judges seemed to be so surprised by this contestant's hobby.
"Yeah!" says MaKayla. "Well we camp every weekend, so it gives me something to do."
After sharing about her love of snakes, MaKayla charms the judges with her impressive audition. She sings "Traveling Soldier" by the Dixie Chicks.
"I cried
Never gonna hold the hand of another guy
Too young for him they told her
Waitin' for the love of a travelin' soldier
Our love will never end
Waitin' for the soldier to come back again
Never more to be alone when the letter says
A soldier's coming home"
Katy Perry is immediately stunned and impressed by MaKayla's singing talent. "What a surprise! Like a snake in the water," jokes Katy. "It's so sweet and so sincere," she says when talking about MaKayla's voice.
"Let me tell you what I'm in love with," says Lionel Richie. "You got this yodel cry. That's a real magic trick you got. It's a signature for you."
After all three judges go around and share their comments about MaKayla's audition, they all vote to send her to Hollywood and hand her a golden ticket.
She is extremely excited and heads outside of the audition room to celebrate with her family. "I'm so shocked," shares MaKayla. "Everything that I've ever dreamed of is in my hands right now. This is the best thing that's ever happened to me by far."
godtube-inspiration

4194 views

2020-03-20T11:49:50

source: American Idol A 17-year-old snake hunter from Kansas impressed the judges with her country audition on American Idol.

MaKayla is a high school student from the country who has a thing for snakes. "Now, what do you do with the snakes?" Luke Bryan asks her after she says that she is a snake hunter.

"Oh, I just catch them, take pictures with them, and then throw them back," says MaKayla.

"You just go out with a flashlight at night, go in the water, and catch a snake?" asks Lionel Richie. The judges seemed to be so surprised by this contestant's hobby.

"Yeah!" says MaKayla. "Well we camp every weekend, so it gives me something to do."

After sharing about her love of snakes, MaKayla charms the judges with her impressive audition. She sings "Traveling Soldier" by the Dixie Chicks.

"I cried
Never gonna hold the hand of another guy
Too young for him they told her
Waitin' for the love of a travelin' soldier
Our love will never end
Waitin' for the soldier to come back again
Never more to be alone when the letter says
A soldier's coming home"

Katy Perry is immediately stunned and impressed by MaKayla's singing talent. "What a surprise! Like a snake in the water," jokes Katy. "It's so sweet and so sincere," she says when talking about MaKayla's voice.

"Let me tell you what I'm in love with," says Lionel Richie. "You got this yodel cry. That's a real magic trick you got. It's a signature for you."

After all three judges go around and share their comments about MaKayla's audition, they all vote to send her to Hollywood and hand her a golden ticket.

She is extremely excited and heads outside of the audition room to celebrate with her family. "I'm so shocked," shares MaKayla. "Everything that I've ever dreamed of is in my hands right now. This is the best thing that's ever happened to me by far."

Today's Devotional
A Prayer for the Filling of God's Power and Love - Your Daily Prayer - August 4
Top Artists