'I Surrender All' Uplifting Hymn From Caleb + Kelsey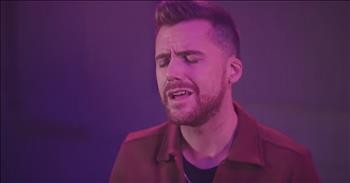 Husband and wife Caleb and Kelsey Grimm worship our Lord with the beautiful words of 'I Surrender All.'

As you listen to these lyrics, be reminded that God is our source of comfort and peace.
"I surrender all
I surrender all
All to Thee my blessed Saviour
I surrender all"
This classic Christian hymn was originally written by American art teacher and musician Judson W. Van DeVenter. It was later put to music by Winfield S. Weeden, and published in 1896. Caleb + Kelsey are an incredibly talented married Christian duo.
Together, these two powerhouse voices have brought us brilliant worship covers and secular favorites such as 'Oceans (Where Feet May Fail)' and 'My Heart Will Go On.' Today, the talented pair is lending their voices to 'I Surrender All' and it's absolutely stunning.
"All to Jesus I surrender
Make me Saviour wholly Thine
Let me feel the Holy Spirit
Truly know that Thou art mine"
Let these words remind you that when we hand our burdens over to the Lord, He will carry our worries. Let Him shoulder our Earthly struggles and rest easy knowing that God is in control. This classic hymn is always a comfort in times of doubt and it is a beautiful way to give praise to His Holy Name. Who else is saying amen right now?
Hebrews 11:6 "And without faith it is impossible to please him, for whoever would draw near to God must believe that he exists and that he rewards those who seek him."
anthem-lights

4247 views

2020-03-19T15:46:34

source: Anthem Lights Husband and wife Caleb and Kelsey Grimm worship our Lord with the beautiful words of 'I Surrender All.'

As you listen to these lyrics, be reminded that God is our source of comfort and peace.

"I surrender all
I surrender all
All to Thee my blessed Saviour
I surrender all"

This classic Christian hymn was originally written by American art teacher and musician Judson W. Van DeVenter. It was later put to music by Winfield S. Weeden, and published in 1896. Caleb + Kelsey are an incredibly talented married Christian duo.

Together, these two powerhouse voices have brought us brilliant worship covers and secular favorites such as 'Oceans (Where Feet May Fail)' and 'My Heart Will Go On.' Today, the talented pair is lending their voices to 'I Surrender All' and it's absolutely stunning.

"All to Jesus I surrender
Make me Saviour wholly Thine
Let me feel the Holy Spirit
Truly know that Thou art mine"

Let these words remind you that when we hand our burdens over to the Lord, He will carry our worries. Let Him shoulder our Earthly struggles and rest easy knowing that God is in control. This classic hymn is always a comfort in times of doubt and it is a beautiful way to give praise to His Holy Name. Who else is saying amen right now?

Hebrews 11:6 "And without faith it is impossible to please him, for whoever would draw near to God must believe that he exists and that he rewards those who seek him."

Today's Devotional
A Prayer for Strength to Endure - Your Daily Prayer - May 29
Top Artists