Kenny Rogers Performs 'The Rock of Your Love' With Point Of Grace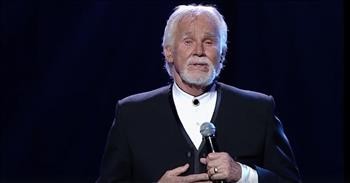 The world lost a legend when country superstar Kenny Rogers passed away in March 2020. As we remember his legacy, we look back on some of his famous performances.

Today, we're throwing it back to 2011 at the Gospel Music Association's Annual Dove Awards for Kenny's unforgettable performance of 'The Rock Of Your Love' with Point Of Grace.
"Somethin' steady sure feels good
I always knew somehow it would
I've traded chains for the wings of a dove
Standin' on the rock of Your love"
Over the decades, Kenny Rogers cemented himself in music history with hits such as 'Lady' and 'The Gambler.' But some of his best performances include classic and contemporary worship songs. 'The Rock Of Your Love' is the perfect song of praise to remind us that God is always steady and firm. We can trust that His strength will always see us through. Just listen as the talented ensemble of Point Of Grace joins Kenny for this iconic performance.
"Let the storm clouds roll
Let the rain flood my soul
I'll still be here when the troubles come
And I'll be standin' on the rock of Your love"
While Kenny Rogers is no longer here with us on Earth, we can find solace that He is in the arms of the Lord and his music continues to touch hearts all around the world.
Psalm 18:2 "The LORD is my rock and my fortress and my deliverer, my God, my rock, in whom I take refuge, my shield, and the horn of my salvation, my stronghold."
GodTube-Music

1328 views

2020-03-26T12:55:00

source: GMA Dove Awards The world lost a legend when country superstar Kenny Rogers passed away in March 2020. As we remember his legacy, we look back on some of his famous performances.

Today, we're throwing it back to 2011 at the Gospel Music Association's Annual Dove Awards for Kenny's unforgettable performance of 'The Rock Of Your Love' with Point Of Grace.

"Somethin' steady sure feels good
I always knew somehow it would
I've traded chains for the wings of a dove
Standin' on the rock of Your love"

Over the decades, Kenny Rogers cemented himself in music history with hits such as 'Lady' and 'The Gambler.' But some of his best performances include classic and contemporary worship songs. 'The Rock Of Your Love' is the perfect song of praise to remind us that God is always steady and firm. We can trust that His strength will always see us through. Just listen as the talented ensemble of Point Of Grace joins Kenny for this iconic performance.

"Let the storm clouds roll
Let the rain flood my soul
I'll still be here when the troubles come
And I'll be standin' on the rock of Your love"

While Kenny Rogers is no longer here with us on Earth, we can find solace that He is in the arms of the Lord and his music continues to touch hearts all around the world.

Psalm 18:2 "The LORD is my rock and my fortress and my deliverer, my God, my rock, in whom I take refuge, my shield, and the horn of my salvation, my stronghold."

Suggested For You
---
Related Videos
---
Today's Devotional
A Prayer for a Full Understanding of God's Word - Your Daily Prayer - August 6
Top Artists