'Whatever May Come' Jeremy Camp And Wife Adie Camp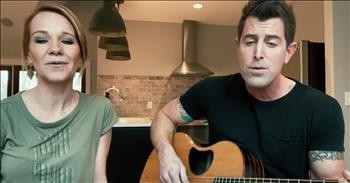 Contemporary Christian artist Jeremy Camp worships with his wife as they sing 'Whatever May Come.' These powerful words remind us that God is always in control.

"Whatever may come
Whatever may fall
Your love overcomes
I will call I will call upon you"
For nearly two decades, Jeremy Camp has been spreading God's Word through worship music. His wife, Adie, is also a Christian singer.
Today, they are sitting down for a very special performance of their original song, 'Whatever May Come.' As the Coronavirus spreads across the globe, it is a troubling time for many people. That's when Jeremy and Adie were inspired to write these touching words about turning to God.
In fact, they performed 'Whatever May Come' for the very first time during a live stream on YouTube. On the video description, they said, "God is there for every heartbreak, every confusion, every fear. He is faithful every time."
"For the king will make things new
Every mountain moved
Every lie be loosed
For your banner we're lifting high"
These words are so important as we enter into unprecedented times. We can find comfort in the arms of the Lord and know that He is always with us each step of the way.
Let us lift up His Holy Name in praise as we sing out these words.
Deuteronomy 31:6 "Be strong and courageous. Do not be afraid or terrified because of them, for the LORD your God goes with you; he will never leave you nor forsake you."
jeremy-camp

2132 views

2020-03-26T16:59:29

source: Jeremy Camp Contemporary Christian artist Jeremy Camp worships with his wife as they sing 'Whatever May Come.' These powerful words remind us that God is always in control.

"Whatever may come
Whatever may fall
Your love overcomes
I will call I will call upon you"

For nearly two decades, Jeremy Camp has been spreading God's Word through worship music. His wife, Adie, is also a Christian singer.

Today, they are sitting down for a very special performance of their original song, 'Whatever May Come.' As the Coronavirus spreads across the globe, it is a troubling time for many people. That's when Jeremy and Adie were inspired to write these touching words about turning to God.

In fact, they performed 'Whatever May Come' for the very first time during a live stream on YouTube. On the video description, they said, "God is there for every heartbreak, every confusion, every fear. He is faithful every time."

"For the king will make things new
Every mountain moved
Every lie be loosed
For your banner we're lifting high"

These words are so important as we enter into unprecedented times. We can find comfort in the arms of the Lord and know that He is always with us each step of the way.

Let us lift up His Holy Name in praise as we sing out these words.

Deuteronomy 31:6 "Be strong and courageous. Do not be afraid or terrified because of them, for the LORD your God goes with you; he will never leave you nor forsake you."

Suggested For You
---
Related Videos
---
Today's Devotional
A Prayer for God's Presence - Your Daily Prayer - May 28
Top Artists