'Turn Your Eyes Upon Jesus' A Cappella Performance From People And Songs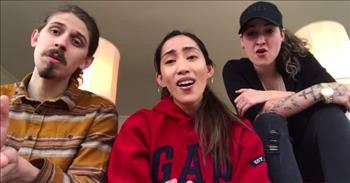 Singers from the group People & Songs share an incredibly beautiful a cappella performance of the hymn 'Turn Your Eyes Upon Jesus.'

"Turn you eyes upon Jesus
Look full in His wonderful face
And the things of earth will grow strangely dim
In the light of His glory and grace"
Their rendition of this popular song is simple, yet powerful. Their raw voices are absolutely beautiful to listen to, and they blend so well together with their lovely harmonies. It is so soothing and calming to listen to that I wish they had recorded a longer video of them singing!
This incredible a cappella performance was loved by many, and people showed their support of the music by People & Songs in the YouTube comments.
"I needed that," one YouTube user wrote. "He's a beautiful Savior, our wonderful Lord. God bless you all."
Another person commented, "People & Songs, I found you all by accident and you quickly became my favorite! You've shown me hope and love where there seemed to be none. I thank you and praise the Lord for you. He's doing great things through you."
On the YouTube
page
for People & Songs, the group describes themselves as "a community of creatives, each one unique in their own artistry, together united by the mission to strengthen and release the voice of the Church."
May this group continue to do their mission and bring glory to the Lord through their gifts, all while uplifting and encouraging the body of Christ!
Hebrews 12:1-2
"Therefore, since we are surrounded by so great a cloud of witnesses, let us also lay aside every weight, and sin which clings so closely, and let us run with endurance the race that is set before us, 2 looking to Jesus, the founder and perfecter of our faith, who for the joy that was set before him endured the cross, despising the shame, and is seated at the right hand of the throne of God."
GodTube-Music

2882 views

2020-03-23T10:33:24

source: People & Songs Singers from the group People & Songs share an incredibly beautiful a cappella performance of the hymn 'Turn Your Eyes Upon Jesus.'

"Turn you eyes upon Jesus
Look full in His wonderful face
And the things of earth will grow strangely dim
In the light of His glory and grace"

Their rendition of this popular song is simple, yet powerful. Their raw voices are absolutely beautiful to listen to, and they blend so well together with their lovely harmonies. It is so soothing and calming to listen to that I wish they had recorded a longer video of them singing!

This incredible a cappella performance was loved by many, and people showed their support of the music by People & Songs in the YouTube comments.

"I needed that," one YouTube user wrote. "He's a beautiful Savior, our wonderful Lord. God bless you all."

Another person commented, "People & Songs, I found you all by accident and you quickly became my favorite! You've shown me hope and love where there seemed to be none. I thank you and praise the Lord for you. He's doing great things through you."

On the YouTube page for People & Songs, the group describes themselves as "a community of creatives, each one unique in their own artistry, together united by the mission to strengthen and release the voice of the Church."

May this group continue to do their mission and bring glory to the Lord through their gifts, all while uplifting and encouraging the body of Christ!


Hebrews 12:1-2

"Therefore, since we are surrounded by so great a cloud of witnesses, let us also lay aside every weight, and sin which clings so closely, and let us run with endurance the race that is set before us, 2 looking to Jesus, the founder and perfecter of our faith, who for the joy that was set before him endured the cross, despising the shame, and is seated at the right hand of the throne of God."

Today's Devotional
A Prayer to Forgive Yourself - Your Daily Prayer - June 3
Top Artists