Bluegrass Performance Of 'Just A Little Talk With Jesus'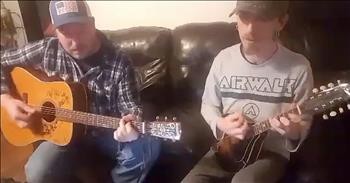 The Stonewalls lead us in worship with this bluegrass rendition of 'Just A Little Talk With Jesus.'

This classic hymn reminds us that we always have a friend in our Lord and Savior.
"I once was lost in sin but Jesus took me in
And then a little light from Heaven filled my soul
He bathed my heart in love and wrote my name above
And just a little talk with Jesus made me whole"
The Stonewalls were founded in 2018 in Tennessee as a bluegrass gospel group. Their unique sound combined with traditional worship songs are the perfect blend of old and new.
Today, they are belting out the words to 'Just A Little Talk With Jesus' and it's exactly the song my heart needed to hear today.
"Now let us have a little talk with Jesus
Let us tell Him all about our troubles
He will hear our faintest cry and we will answer by and by
Now when you feel a little prayer wheel turning
You'll know a little fire is burning
You will find a little talk with Jesus makes it right"
In troubling times, it is so important to turn to God with all your worries and concerns. He will truly light your path and guide you through the dark nights. Let His grace lead the way and there will never be an obstacle too big to face.
Proverbs 3:5-6 "5 Trust in the LORD with all your heart and lean not on your own understanding; 6 in all your ways submit to him, and he will make your paths straight."
Just A Little Talk With Jesus by request.. The SWs

Posted by The Stonewalls on Sunday, November 25, 2018
GodTube-Music

1260 views

2020-05-20T13:07:33

source: The Stonewalls The Stonewalls lead us in worship with this bluegrass rendition of 'Just A Little Talk With Jesus.'

This classic hymn reminds us that we always have a friend in our Lord and Savior.

"I once was lost in sin but Jesus took me in
And then a little light from Heaven filled my soul
He bathed my heart in love and wrote my name above
And just a little talk with Jesus made me whole"

The Stonewalls were founded in 2018 in Tennessee as a bluegrass gospel group. Their unique sound combined with traditional worship songs are the perfect blend of old and new.

Today, they are belting out the words to 'Just A Little Talk With Jesus' and it's exactly the song my heart needed to hear today.

"Now let us have a little talk with Jesus
Let us tell Him all about our troubles
He will hear our faintest cry and we will answer by and by

Now when you feel a little prayer wheel turning
You'll know a little fire is burning
You will find a little talk with Jesus makes it right"

In troubling times, it is so important to turn to God with all your worries and concerns. He will truly light your path and guide you through the dark nights. Let His grace lead the way and there will never be an obstacle too big to face.

Proverbs 3:5-6 "5 Trust in the LORD with all your heart and lean not on your own understanding; 6 in all your ways submit to him, and he will make your paths straight."

Today's Devotional
A Prayer to Forgive Yourself - Your Daily Prayer - June 3
Top Artists