'Way Maker' Virtual College Choir Sings Beloved Worship Song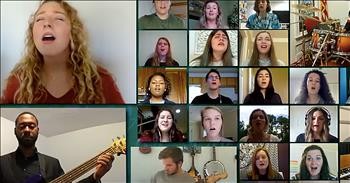 Students from Liberty University come together for a virtual performance of the smash hit 'Way Maker.'

This powerful song was originally recorded by Nigerian gospel singer, Sinach. Contemporary Christian artist Michael W. Smith also released a version of the song, which helped propel it to greater popularity.
Now, artists from all over the world are lending their voices to this beautiful song.
"You are
Way maker, miracle worker, promise keeper
Light in the darkness, my God
That is who You are"
As we walk through uncertain times, it is so important to lean on our faith and God. Even when we are apart, there are ways to come together and celebrate our love for the Lord. The choir students from Liberty University used technology to create a virtual performance of this amazing worship song.
Just listen as their voices blend together to proclaim the greatness of our Lord with 'Way Maker.'
"You are here, touching every heart
I worship You
I worship You"
We are so blessed to serve such a loving and gracious Father in Heaven. Even when we may not understand, God is always in control and His timing is perfect. Let Him guide you through the darkness and He will always be waiting to welcome you with open arms.
Isaiah 43:2 "When you pass through the waters, I will be with you; and when you pass through the rivers, they will not sweep over you. When you walk through the fire, you will not be burned; the flames will not set you ablaze."
GodTube-Music

853 views

2020-05-18T18:09:45

source: Liberty University Students from Liberty University come together for a virtual performance of the smash hit 'Way Maker.'

This powerful song was originally recorded by Nigerian gospel singer, Sinach. Contemporary Christian artist Michael W. Smith also released a version of the song, which helped propel it to greater popularity.

Now, artists from all over the world are lending their voices to this beautiful song.

"You are
Way maker, miracle worker, promise keeper
Light in the darkness, my God
That is who You are"

As we walk through uncertain times, it is so important to lean on our faith and God. Even when we are apart, there are ways to come together and celebrate our love for the Lord. The choir students from Liberty University used technology to create a virtual performance of this amazing worship song.

Just listen as their voices blend together to proclaim the greatness of our Lord with 'Way Maker.'

"You are here, touching every heart
I worship You
I worship You"

We are so blessed to serve such a loving and gracious Father in Heaven. Even when we may not understand, God is always in control and His timing is perfect. Let Him guide you through the darkness and He will always be waiting to welcome you with open arms.

Isaiah 43:2 "When you pass through the waters, I will be with you; and when you pass through the rivers, they will not sweep over you. When you walk through the fire, you will not be burned; the flames will not set you ablaze."

Today's Devotional
A Prayer to Forgive Yourself - Your Daily Prayer - June 3
Top Artists