'You Say' Social Distancing Performance From Lauren Daigle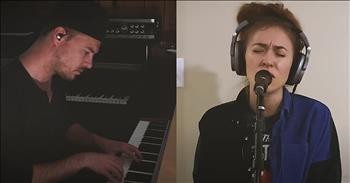 Christian artist Lauren Daigle spreads the message of God's love with this at-home rendition of 'You Say.'

Lauren originally released this powerful song in 2018 and it quickly became a smash hit in both the Christian and secular music scene. The words remind us all that God stands beside us no matter what.
"I keep fighting voices in my mind that say I'm not enough
Every single lie that tells me I will never measure up
Am I more than just the sum of every high and every low
Remind me once again just who I am because I need to know"
Lauren Daigle is one of the most popular Christian artists of the modern era. After bursting onto the scene with her 2014 album 'How Can It Be,' Lauren has continued to share hit after hit that all praise God's Name. But as we face unprecedented times in our world, Lauren wanted to share God's continuing message of hope and love.
Just listen as she performs a special rendition of 'You Say' from her home.
"You say I am loved when I can't feel a thing
You say I am strong when I think I am weak
And you say I am held when I am falling short
And when I don't belong, oh You say I am Yours"
1 John 4:16 "So we have come to know and to believe the love that God has for us. God is love, and whoever abides in love abides in God, and God abides in him."
lauren-daigle

869 views

2020-05-29T12:05:06

source: Lauren Daigle Christian artist Lauren Daigle spreads the message of God's love with this at-home rendition of 'You Say.'

Lauren originally released this powerful song in 2018 and it quickly became a smash hit in both the Christian and secular music scene. The words remind us all that God stands beside us no matter what.

"I keep fighting voices in my mind that say I'm not enough
Every single lie that tells me I will never measure up
Am I more than just the sum of every high and every low
Remind me once again just who I am because I need to know"

Lauren Daigle is one of the most popular Christian artists of the modern era. After bursting onto the scene with her 2014 album 'How Can It Be,' Lauren has continued to share hit after hit that all praise God's Name. But as we face unprecedented times in our world, Lauren wanted to share God's continuing message of hope and love.

Just listen as she performs a special rendition of 'You Say' from her home.

"You say I am loved when I can't feel a thing
You say I am strong when I think I am weak
And you say I am held when I am falling short
And when I don't belong, oh You say I am Yours"

1 John 4:16 "So we have come to know and to believe the love that God has for us. God is love, and whoever abides in love abides in God, and God abides in him."

Today's Devotional
A Prayer for Communication During Conflict - Your Daily Prayer - August 13
Top Artists