'Who You Say I Am' Live Performance From Hillsong Worship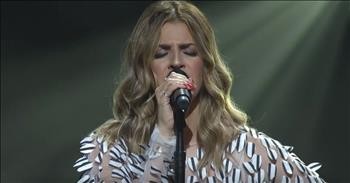 The anointed voices of Hillsong Worship praise the Lord with a live performance of 'Who You Say I Am.' These powerful words remind us all of the grace and glory that comes from our God in Heaven.

"Who am I that the highest King
Would welcome me?
I was lost but He brought me in
Oh His love for me
Oh His love for me"
Hillsong Worship has been a leader in Christian music since 1983. The group started as the worship band for their home church located in Sydney, Australia.
They released their first album in 1988 and it's been a whirlwind journey ever since. Over the years, these incredible voices have given us hits such as 'Cornerstone' and 'What A Beautiful Name.'
Now, they are at the 2019 Dove Awards for a live performance of their hit 'Who You Say I Am.'
"Who the Son sets free
Oh is free indeed
I'm a child of God
Yes I am
In my Father's house
There's a place for me
I'm a child of God
Yes I am"
When the Lord sent His Only Son down to Earth to die for our sins, our chains were finally gone. Our God has set us free and that is a beautiful gift indeed.
Let us use these words to lift up His Name in praise for all to hear. Amen!
Galatians 5:1 "For freedom Christ has set us free; stand firm therefore, and do not submit again to a yoke of slavery."
hillsong-worship

942 views

2019-11-21T09:49:37

source: Hillsong Worship The anointed voices of Hillsong Worship praise the Lord with a live performance of 'Who You Say I Am.' These powerful words remind us all of the grace and glory that comes from our God in Heaven.

"Who am I that the highest King
Would welcome me?
I was lost but He brought me in
Oh His love for me
Oh His love for me"

Hillsong Worship has been a leader in Christian music since 1983. The group started as the worship band for their home church located in Sydney, Australia.

They released their first album in 1988 and it's been a whirlwind journey ever since. Over the years, these incredible voices have given us hits such as 'Cornerstone' and 'What A Beautiful Name.'

Now, they are at the 2019 Dove Awards for a live performance of their hit 'Who You Say I Am.'

"Who the Son sets free
Oh is free indeed
I'm a child of God
Yes I am
In my Father's house
There's a place for me
I'm a child of God
Yes I am"

When the Lord sent His Only Son down to Earth to die for our sins, our chains were finally gone. Our God has set us free and that is a beautiful gift indeed.

Let us use these words to lift up His Name in praise for all to hear. Amen!

Galatians 5:1 "For freedom Christ has set us free; stand firm therefore, and do not submit again to a yoke of slavery."

Suggested For You
---
Related Videos
---
Today's Devotional
A Prayer for a Strong Marriage - Your Daily Prayer - August 9
Top Artists