'Star Of Wonder' Phil Wickham Acoustic Performance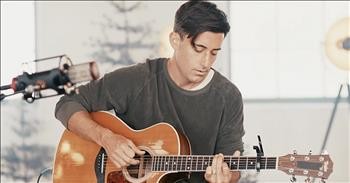 Christian artist Phil Wickham shares an acoustic performance of the beloved Christmas hymn, 'Star Of Wonder.'

These words truly remind of us of the glory of that miraculous night in Bethlehem.
"Star of wonder star of light
Star with royal beauty bright
Westward leading still proceeding
Guide us to Thy perfect light
Guide us to Thy perfect light"
Over the years, contemporary singer and songwriter Phil Wickham has become a staple in the Christian music scene. His song 'This Is Amazing Grace' and 'Living Hope' are performed in church services all over the world.
Now, he's ringing in the Christmas season with a brand new album full of timeless classics and new favorites. Phil said, "Whether you start to listen today, or you wait until Christmas Eve, I pray these songs bring joy, peace, and wonder to your lives."
Today, he's performing 'Star Of Wonder' and it's truly an awe-inspiring hymn. Our world was changed forever when God sent His Son down to Earth and Jesus Christ was born in a manger to Joseph and Mary.
Now, we are freed from our sins and that is a glorious gift indeed. This Christmas let us join our voices together and sing of His many wonders and blessings.
Matthew 2:1-2 "Now after Jesus was born in Bethlehem of Judea in the days of Herod the king, behold, wise men from the east came to Jerusalem, saying, "Where is he who has been born king of the Jews? For we saw his star when it rose and have come to worship him."
godtube-christmas

1955 views

2019-11-26T16:04:19

source: Phil Wickham Christian artist Phil Wickham shares an acoustic performance of the beloved Christmas hymn, 'Star Of Wonder.'

These words truly remind of us of the glory of that miraculous night in Bethlehem.

"Star of wonder star of light
Star with royal beauty bright
Westward leading still proceeding
Guide us to Thy perfect light
Guide us to Thy perfect light"

Over the years, contemporary singer and songwriter Phil Wickham has become a staple in the Christian music scene. His song 'This Is Amazing Grace' and 'Living Hope' are performed in church services all over the world.

Now, he's ringing in the Christmas season with a brand new album full of timeless classics and new favorites. Phil said, "Whether you start to listen today, or you wait until Christmas Eve, I pray these songs bring joy, peace, and wonder to your lives."

Today, he's performing 'Star Of Wonder' and it's truly an awe-inspiring hymn. Our world was changed forever when God sent His Son down to Earth and Jesus Christ was born in a manger to Joseph and Mary.

Now, we are freed from our sins and that is a glorious gift indeed. This Christmas let us join our voices together and sing of His many wonders and blessings.

Matthew 2:1-2 "Now after Jesus was born in Bethlehem of Judea in the days of Herod the king, behold, wise men from the east came to Jerusalem, saying, "Where is he who has been born king of the Jews? For we saw his star when it rose and have come to worship him."

Today's Devotional
A Prayer to Be Sober-Minded - Your Daily Prayer - July 7
Top Artists