Contestant Damali Sings 'You Say' From Lauren Daigle On The Voice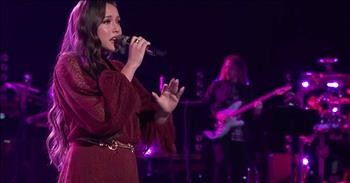 16-year-old Damali performs a beautiful rendition of 'You Say' on The Voice.

In 2018, this song became a smash hit for Christian artist Lauren Daigle. The uplifting lyrics remind us all that God is with us each step of the way.
"I keep fighting voices in my mind that say I'm not enough
Every single lie that tells me I will never measure up
Am I more than just the sum of every high and every low
Remind me once again just who I am because I need to know"
Today, Damali is performing this inspiring song on The Voice stage. As a member of Team Kelly, Damali impressed the judges week after week. This talented young singer advanced all the way to the Top 20 of the competition.
Her final song was this powerful performance of 'You Say' and it was absolutely unforgettable. Just listen as she belts out these words of praise to our King.
"You say I am loved when I can't feel a thing
You say I am strong when I think I am weak
And you say I am held when I am falling short
And when I don't belong, oh You say I am Yours"
When God is by our side, there is truly nothing that can stand in the way. What a beautiful blessing for our Savior.
"But those who hope in the LORD will renew their strength. They will soar on wings like eagles; they will run and not grow weary, they will walk and not be faint." ISAIAH 40:31
GodTube-Music

1359 views

2019-12-03T12:36:20

source: The Voice 16-year-old Damali performs a beautiful rendition of 'You Say' on The Voice.

In 2018, this song became a smash hit for Christian artist Lauren Daigle. The uplifting lyrics remind us all that God is with us each step of the way.

"I keep fighting voices in my mind that say I'm not enough
Every single lie that tells me I will never measure up
Am I more than just the sum of every high and every low
Remind me once again just who I am because I need to know"

Today, Damali is performing this inspiring song on The Voice stage. As a member of Team Kelly, Damali impressed the judges week after week. This talented young singer advanced all the way to the Top 20 of the competition.

Her final song was this powerful performance of 'You Say' and it was absolutely unforgettable. Just listen as she belts out these words of praise to our King.

"You say I am loved when I can't feel a thing
You say I am strong when I think I am weak
And you say I am held when I am falling short
And when I don't belong, oh You say I am Yours"
When God is by our side, there is truly nothing that can stand in the way. What a beautiful blessing for our Savior.

"But those who hope in the LORD will renew their strength. They will soar on wings like eagles; they will run and not grow weary, they will walk and not be faint." ISAIAH 40:31

Today's Devotional
A Prayer for Communication During Conflict - Your Daily Prayer - August 13
Top Artists