Toddler Rests His Head On Nurse's Hand And The Moment Goes Viral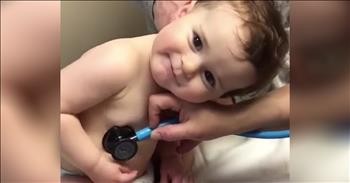 This little boy is melting hearts all over the Internet after he sweetly rests his head on the nurse's hand during a checkup.

I think we can all agree that God took a little extra care when He created children. There is truly nothing sweeter than watching kids interact with the world around them.
Children have the ability to see the world through a completely different set of eyes than adults. They are full of innocence and wonder and they wear their heart on their sleeves. That is all so perfectly true in the case of this toddler.
This little guy was at the doctor's office for a checkup when the nurse used the stethoscope to listen to his heart. At first, he looks a bit apprehensive. But, as time goes on, he starts to relax and eventually lays his head right on top of the nurse's hand. It was a moment that caught everyone off guard.
The nurse couldn't help but smile as he looked up at her with those adoring eyes. And she wasn't the only one in awe. Once the clip was posted online, it quickly went viral. In fact, over 32 million people have seen this little boy and his adorable personality. What a sweet moment captured on camera!
Psalm 127:3-5 "3 Children are a heritage from the LORD, offspring a reward from him. 4 Like arrows in the hands of a warrior are children born in one's youth. 5 Blessed is the man whose quiver is full of them. They will not be put to shame when they contend with their opponents in court."
kidsarecute

14057 views

2020-02-20T15:31:58

source: RM Videos This little boy is melting hearts all over the Internet after he sweetly rests his head on the nurse's hand during a checkup.

I think we can all agree that God took a little extra care when He created children. There is truly nothing sweeter than watching kids interact with the world around them.

Children have the ability to see the world through a completely different set of eyes than adults. They are full of innocence and wonder and they wear their heart on their sleeves. That is all so perfectly true in the case of this toddler.

This little guy was at the doctor's office for a checkup when the nurse used the stethoscope to listen to his heart. At first, he looks a bit apprehensive. But, as time goes on, he starts to relax and eventually lays his head right on top of the nurse's hand. It was a moment that caught everyone off guard.

The nurse couldn't help but smile as he looked up at her with those adoring eyes. And she wasn't the only one in awe. Once the clip was posted online, it quickly went viral. In fact, over 32 million people have seen this little boy and his adorable personality. What a sweet moment captured on camera!

Psalm 127:3-5 "3 Children are a heritage from the LORD, offspring a reward from him. 4 Like arrows in the hands of a warrior are children born in one's youth. 5 Blessed is the man whose quiver is full of them. They will not be put to shame when they contend with their opponents in court."

Suggested For You
---
Related Videos
---
Today's Devotional
A Prayer to Help Your Kids Love God's Word - Your Daily Prayer - July 5
Top Artists