Christian Couple Caleb And Kelsey Sing 'Way Maker'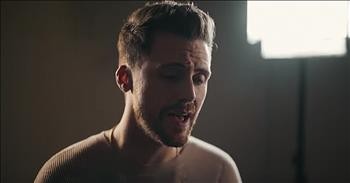 Christian couple Caleb and Kelsey Grimm come together for an incredible performance of 'Way Maker.'

This powerful song was originally recorded by Nigerian gospel singer, Sinach. Contemporary Christian artist Michael W. Smith also released a version of the song, which helped propel it to greater popularity. Now, artists from all over the world are lending their voices to this beautiful song.
"You are
Way maker, miracle worker, promise keeper
Light in the darkness, my God
That is who You are"
Today, Caleb + Kelsey are putting their own unique spin on 'Way Maker.' Together, these two powerhouse voices have brought us brilliant worship covers and secular favorites such as 'Oceans (Where Feet May Fail)' and 'My Heart Will Go On.' As Christians, Caleb and Kelsey love to use their God-given talent to lead worship. And this gospel song is the perfect way to give praise to His Name.
"You are here, touching every heart
I worship You
I worship You"
There is truly no one like our God. He gives us the strength and courage to face each day. We can rest easy knowing that the Lord is with us each step of the way. Let us use these words of praise to give thanks and share His message of love and hope to everyone around the world.
Isaiah 41:10 "Fear not, for I am with you; be not dismayed, for I am your God; I will strengthen you, I will help you, I will uphold you with my righteous right hand."
anthem-lights

1363 views

2020-01-28T13:49:58

source: Anthem Lights Christian couple Caleb and Kelsey Grimm come together for an incredible performance of 'Way Maker.'

This powerful song was originally recorded by Nigerian gospel singer, Sinach. Contemporary Christian artist Michael W. Smith also released a version of the song, which helped propel it to greater popularity. Now, artists from all over the world are lending their voices to this beautiful song.

"You are
Way maker, miracle worker, promise keeper
Light in the darkness, my God
That is who You are"

Today, Caleb + Kelsey are putting their own unique spin on 'Way Maker.' Together, these two powerhouse voices have brought us brilliant worship covers and secular favorites such as 'Oceans (Where Feet May Fail)' and 'My Heart Will Go On.' As Christians, Caleb and Kelsey love to use their God-given talent to lead worship. And this gospel song is the perfect way to give praise to His Name.

"You are here, touching every heart
I worship You
I worship You"

There is truly no one like our God. He gives us the strength and courage to face each day. We can rest easy knowing that the Lord is with us each step of the way. Let us use these words of praise to give thanks and share His message of love and hope to everyone around the world.

Isaiah 41:10 "Fear not, for I am with you; be not dismayed, for I am your God; I will strengthen you, I will help you, I will uphold you with my righteous right hand."

Today's Devotional
A Prayer for God's Presence - Your Daily Prayer - May 28
Top Artists