'Awake My Soul' Acoustic Performance From Hillsong Worship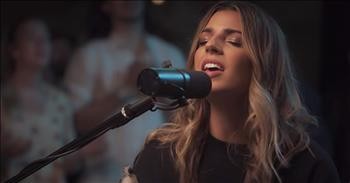 The incredible voices of Hillsong Worship lead us in praise with an acoustic performance of 'Awake My Soul.' These powerful words remind us that His love and grace can wake our spirits from even the deepest of slumbers.

"There is a sound that changes things
The sound of His people on their knees
Oh wake up you slumbering
It's time to worship Him"
Hillsong Worship has been a leader in Christian music since 1983. The group started as the worship band for their home church located in Sydney, Australia. They released their first album in 1988 and it's been a whirlwind journey ever since.
Over the years, these incredible voices have given us hits such as 'Cornerstone' and 'What A Beautiful Name.' Today, they are leading us all in worship with this beautiful acoustic rendition of 'Awake My Soul.'
Just listen as these anointed voices come together to praise His Name.
"Awake my soul and sing
Sing His praise aloud
Sing His praise aloud"
No matter our sins or struggles, God is always there to lead us home. He will love us and comfort us for all of our days. The words of 'Awake My Soul' are the perfect way to lift His Holy Name in praise and let the world know that our King is alive and in our hearts. Who else is with me?
Ephesians 5:14 "For anything that becomes visible is light. Therefore it says, "Awake, O sleeper, and arise from the dead, and Christ will shine on you.""
hillsong-worship

8342 views

2020-02-05T13:17:39

source: Hillsong Worship The incredible voices of Hillsong Worship lead us in praise with an acoustic performance of 'Awake My Soul.' These powerful words remind us that His love and grace can wake our spirits from even the deepest of slumbers.

"There is a sound that changes things
The sound of His people on their knees
Oh wake up you slumbering
It's time to worship Him"

Hillsong Worship has been a leader in Christian music since 1983. The group started as the worship band for their home church located in Sydney, Australia. They released their first album in 1988 and it's been a whirlwind journey ever since.

Over the years, these incredible voices have given us hits such as 'Cornerstone' and 'What A Beautiful Name.' Today, they are leading us all in worship with this beautiful acoustic rendition of 'Awake My Soul.'

Just listen as these anointed voices come together to praise His Name.

"Awake my soul and sing
Sing His praise aloud
Sing His praise aloud"

No matter our sins or struggles, God is always there to lead us home. He will love us and comfort us for all of our days. The words of 'Awake My Soul' are the perfect way to lift His Holy Name in praise and let the world know that our King is alive and in our hearts. Who else is with me?

Ephesians 5:14 "For anything that becomes visible is light. Therefore it says, "Awake, O sleeper, and arise from the dead, and Christ will shine on you.""

Suggested For You
---
Related Videos
---
Today's Devotional
A Prayer against Anxious Thoughts - Your Daily Prayer - June 4
Top Artists