Michael Buble Reads 'Twas The Night Before Christmas'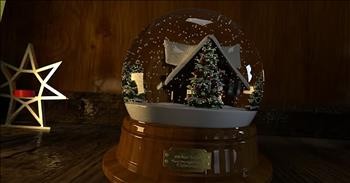 Award-winning artist Michael Buble rings in the Christmas season with a beautiful reading of 'Twas The Night Before Christmas.'

I think we can all agree that Michael Buble is a name most commonly heard around the holiday time. With hit covers such as 'White Christmas' and 'I'll Be Home For Christmas' Michael has cemented his place on holiday playlists around the world.
Today, we're in for a very special treat as this famed musician recites the classic poem 'Twas The Night Before Christmas.' This poem was originally published in 1823 as 'A Visit From St. Nicholas' but the opening line eventually became the title we most often hear.
"'Twas the night before Christmas, when all through the house
Not a creature was stirring, not even a mouse;
The stockings were hung by the chimney with care,
In hopes that St. Nicholas soon would be there."
This tale follows a father who hears a strange noise on the roof on Christmas Eve. As he creeps down the hall to peek, he discovers Santa Claus has climbed down the chimney and is leaving presents for the family.
The beloved story has become a family tradition for many to read before Christmas Day. The heartfelt words remind us all of the spirit of the holidays and the joy that we can all bring. Over the years, many artists have added music to the poem and turned it into a classic.
Just as the poem ends, we say, "Happy Christmas to all, and to all a good night!"
godtube-christmas

836 views

2019-12-10T11:10:00

source: Michael Bublé Award-winning artist Michael Buble rings in the Christmas season with a beautiful reading of 'Twas The Night Before Christmas.'

I think we can all agree that Michael Buble is a name most commonly heard around the holiday time. With hit covers such as 'White Christmas' and 'I'll Be Home For Christmas' Michael has cemented his place on holiday playlists around the world.

Today, we're in for a very special treat as this famed musician recites the classic poem 'Twas The Night Before Christmas.' This poem was originally published in 1823 as 'A Visit From St. Nicholas' but the opening line eventually became the title we most often hear.

"'Twas the night before Christmas, when all through the house
Not a creature was stirring, not even a mouse;
The stockings were hung by the chimney with care,
In hopes that St. Nicholas soon would be there."

This tale follows a father who hears a strange noise on the roof on Christmas Eve. As he creeps down the hall to peek, he discovers Santa Claus has climbed down the chimney and is leaving presents for the family.

The beloved story has become a family tradition for many to read before Christmas Day. The heartfelt words remind us all of the spirit of the holidays and the joy that we can all bring. Over the years, many artists have added music to the poem and turned it into a classic.

Just as the poem ends, we say, "Happy Christmas to all, and to all a good night!"

Today's Devotional
A Prayer for Quieting the Noise - Your Daily Prayer - August 8
Top Artists