'Walk By Faith' Jeremy Camp Official Music Video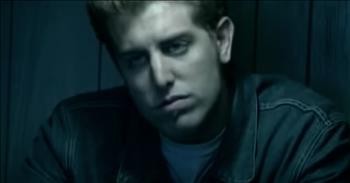 Dove award-winning artist Jeremy Camp leads us in worship with the official music video for 'Walk By Faith.' This powerful song reminds us that with God by our side, nothing is impossible.

"Help me to win my endless fears
You've been so faithful for all my years
With one breath you make me new
Your grace covers all I do"
For nearly two decades, Jeremy Camp has been spreading God's Word through worship music. Time and time, he uses music to share the love and support that comes from the Lord. 'Walk By Faith' was released in 2002.
He wrote the moving song while he was on his honeymoon with his first wife, Melissa. After her death a short time later, the words of 'Walk By Faith' helped comfort Jeremy during his grief. The song went on to reach number one on the Christian Billboard charts and become a modern day classic.
"Well I will walk by faith
Even when I cannot see
Well because this broken road
Prepares your will for me"
Through the good times and the bad, we cling to the Lord with all of our might. He is truly the source of our light and strength. 'Walk By Faith' is the perfect song to sing to the Heavens and give praise to His Holy Name.
Who else is with me?
Proverbs 3:5-6 "Trust in the LORD with all your heart, and do not lean on your own understanding. In all your ways acknowledge him, and he will make straight your paths."
jeremy-camp

2791 views

2020-01-21T12:11:51

source: Jeremy Camp Dove award-winning artist Jeremy Camp leads us in worship with the official music video for 'Walk By Faith.' This powerful song reminds us that with God by our side, nothing is impossible.

"Help me to win my endless fears
You've been so faithful for all my years
With one breath you make me new
Your grace covers all I do"

For nearly two decades, Jeremy Camp has been spreading God's Word through worship music. Time and time, he uses music to share the love and support that comes from the Lord. 'Walk By Faith' was released in 2002.

He wrote the moving song while he was on his honeymoon with his first wife, Melissa. After her death a short time later, the words of 'Walk By Faith' helped comfort Jeremy during his grief. The song went on to reach number one on the Christian Billboard charts and become a modern day classic.

"Well I will walk by faith
Even when I cannot see
Well because this broken road
Prepares your will for me"

Through the good times and the bad, we cling to the Lord with all of our might. He is truly the source of our light and strength. 'Walk By Faith' is the perfect song to sing to the Heavens and give praise to His Holy Name.

Who else is with me?

Proverbs 3:5-6 "Trust in the LORD with all your heart, and do not lean on your own understanding. In all your ways acknowledge him, and he will make straight your paths."

Today's Devotional
A Prayer for a Strong Marriage - Your Daily Prayer - August 9
Top Artists