Today's Devotional
A Prayer for a Great Inheritance - Your Daily Prayer - June 20, 2018
Top Artists
The Moment - A New Reality Series With Kurt Warner (Begins April 11)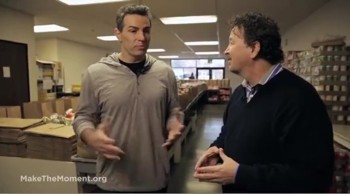 WHAT WOULD YOU DO WITH THE SECOND CHANCE OF A LIFETIME?

For anyone who believes in second chances comes USA Network's new unscripted original series The Moment. Hosted by legendary NFL quarterback Kurt Warner, The Moment will give ordinary Americans the opportunity to realize their dreams and rewrite their life stories.
Each week, Kurt will surprise one nominee with a unique offer: a second chance to pursue the career they've always dreamed of, from race car driver to costume designer to sports photographer. Traveling far from their homes and families to pursue their calling under the guidance of expert mentors, each hopeful will prepare for the interview of a lifetime. In the end, they will find out whether they still have what it takes to pursue this career or if they've been living their dream life all along.
http://www.makethemoment.org
BEGINS APRIL 11
Embed

gracehillmedia

8888 views

2013-04-08T10:49:04

WHAT WOULD YOU DO WITH THE SECOND CHANCE OF A LIFETIME?

For anyone who believes in second chances comes USA Network's new unscripted original series The Moment. Hosted by legendary NFL quarterback Kurt Warner, The Moment will give ordinary Americans the opportunity to realize their dreams and rewrite their life stories.

Each week, Kurt will surprise one nominee with a unique offer: a second chance to pursue the career they've always dreamed of, from race car driver to costume designer to sports photographer. Traveling far from their homes and families to pursue their calling under the guidance of expert mentors, each hopeful will prepare for the interview of a lifetime. In the end, they will find out whether they still have what it takes to pursue this career or if they've been living their dream life all along.

http://www.makethemoment.org BEGINS APRIL 11
Suggested for You
---
Related Videos
---