Today's Devotional
A Prayer to Soothe an Anxious Heart - Your Daily Prayer - May 22, 2018The answer to anxieties is to go to God as soon as you sense a worry.
Top Artists
Homeless and Frightened Dog Rescued From Los Angeles River - Amazing!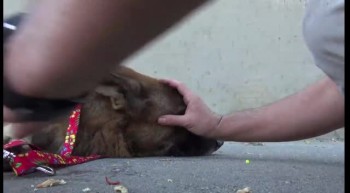 This sweet dog was left for dead in the base of the Los Angeles river...until his guardian angel came to his rescue. This is incredible!

To help Hope For Paws rescue more dogs like Biggie, please make a small donation here:
http://www.hopeforpaws.org
If you would like to adopt Biggie, please contact Coastal German Shepherd Rescue:
http://www.coastalgsr.org
Special thanks to Annie Hart from Bill Foundation for all your help:
http://www.billfoundation.org
Embed

hopeforpaws

47069 views

2012-12-26T15:49:06

This sweet dog was left for dead in the base of the Los Angeles river...until his guardian angel came to his rescue. This is incredible!

To help Hope For Paws rescue more dogs like Biggie, please make a small donation here: http://www.hopeforpaws.org
If you would like to adopt Biggie, please contact Coastal German Shepherd Rescue: http://www.coastalgsr.org
Special thanks to Annie Hart from Bill Foundation for all your help: http://www.billfoundation.org