Toddler Waits For Dad To Come From Work And Has The Best Reaction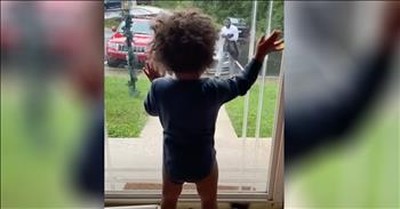 Parenting in the early stages is not easy. There are sleepless nights, putting together the crib and other baby gear that seems to come with instructions in gibberish. Then there's sleep deprivation and toddler tantrums. But this one sweet baby boy is breaking the internet and reminding us how precious these early stages are. This toddler waits for dad to come home from work and has the best reaction!

This sweet baby boy's excitement for his dad's arrival has hearts turning to mush on social media. In this heartwarming video, a mom posted a video of her son anticipating the arrival of his dad. It perfectly captures how a few hours apart can feel like an eternity as well as the love and adoration children have for their dads.
At first in the footage, you can see this precious little boy looking outside with anticipation as he waits for his dad to arrive. Suddenly he spots his daddy's car and does a little dance. Then his daddy comes walking up the steps to the house and he bends down as if to say, "Hey kiddo!"
His son excitedly dances and bangs on the glass. As his father opens the door, his son can't take his eyes off of his dad as he claps in excitement that his dad is finally home after a long day apart. But the best part of the video is when dad scoops his son up in his arms.
One viewer commented, "There's nothing more heartwarming than your child greeting you after a hard day's work. Love it." While another added, "Clapping for joy when dad gets to the door! I think my heart just melted!"
This is absolutely the most beautiful thing you will watch all day. There is nothing like a father's love.
"I will guide you in the way of wisdom and I will lead you in upright paths. When you walk, your steps will not be hampered, and when you run, you will not stumble."
Proverbs 4:11-12
kidsarecute

1601 views

2021-09-24T10:52:41

source: Rumble Viral Parenting in the early stages is not easy. There are sleepless nights, putting together the crib and other baby gear that seems to come with instructions in gibberish. Then there's sleep deprivation and toddler tantrums. But this one sweet baby boy is breaking the internet and reminding us how precious these early stages are. This toddler waits for dad to come home from work and has the best reaction!

This sweet baby boy's excitement for his dad's arrival has hearts turning to mush on social media. In this heartwarming video, a mom posted a video of her son anticipating the arrival of his dad. It perfectly captures how a few hours apart can feel like an eternity as well as the love and adoration children have for their dads.

At first in the footage, you can see this precious little boy looking outside with anticipation as he waits for his dad to arrive. Suddenly he spots his daddy's car and does a little dance. Then his daddy comes walking up the steps to the house and he bends down as if to say, "Hey kiddo!"

His son excitedly dances and bangs on the glass. As his father opens the door, his son can't take his eyes off of his dad as he claps in excitement that his dad is finally home after a long day apart. But the best part of the video is when dad scoops his son up in his arms.

One viewer commented, "There's nothing more heartwarming than your child greeting you after a hard day's work. Love it." While another added, "Clapping for joy when dad gets to the door! I think my heart just melted!"

This is absolutely the most beautiful thing you will watch all day. There is nothing like a father's love.

"I will guide you in the way of wisdom and I will lead you in upright paths. When you walk, your steps will not be hampered, and when you run, you will not stumble." Proverbs 4:11-12

Top Artists
Top Music Videos