MercyMe Performs 'Say I Won't' At The Grand Ole Opry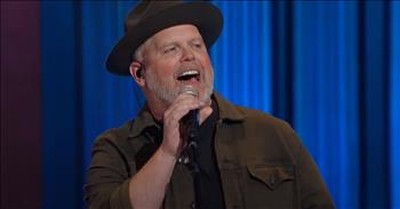 Christian band MercyMe moves us with a beautiful performance of 'Say I Won't' at the Grand Ole Opry. 'Say I Won't' was inspired by the real-life story of Gary Miracle, who worked with the band on the road. Gary tragically lost both arms and legs after falling into septic shock. But his faith and determination to the face of adversity is truly overwhelming.

MercyMe lead singer Bart Millard told
Fox News
, "It's incredibly overwhelming to see Gary's situation but to watch his wife and kids and what they're going through and standing by and supporting him is mind-blowing and it feels like it's a whole other level of love."
"I'm gonna run
No, I'm gonna fly
I'm gonna know what it means to live
And not just be alive"
For decades, MercyMe has been a staple in the Christian music scene, giving us worship anthems such as 'I Can Only Imagine' and 'Shake.' Today, they're sharing God's message of patience with 'Hurry Up And Wait.'
Today, they are sharing Gary's story with the whole world while performing 'Say I Won't' at the Grand Ole Opry.
"The world's gonna hear
'Cause I'm gonna shout
And I will be dancing when circumstances drown the music out
Say I won't"
God is truly working through Gary and hearing his story is the perfect display of faith in all things.
Ephesians 2:8-9 "For by grace you have been saved through faith. And this is not your own doing; it is the gift of God, not a result of works, so that no one may boast."
mercymemusic

712 views

2021-09-21T14:30:00

source: MercyMe Music Christian band MercyMe moves us with a beautiful performance of 'Say I Won't' at the Grand Ole Opry. 'Say I Won't' was inspired by the real-life story of Gary Miracle, who worked with the band on the road. Gary tragically lost both arms and legs after falling into septic shock. But his faith and determination to the face of adversity is truly overwhelming.

MercyMe lead singer Bart Millard told Fox News, "It's incredibly overwhelming to see Gary's situation but to watch his wife and kids and what they're going through and standing by and supporting him is mind-blowing and it feels like it's a whole other level of love."

"I'm gonna run
No, I'm gonna fly
I'm gonna know what it means to live
And not just be alive"

For decades, MercyMe has been a staple in the Christian music scene, giving us worship anthems such as 'I Can Only Imagine' and 'Shake.' Today, they're sharing God's message of patience with 'Hurry Up And Wait.'

Today, they are sharing Gary's story with the whole world while performing 'Say I Won't' at the Grand Ole Opry.

"The world's gonna hear
'Cause I'm gonna shout
And I will be dancing when circumstances drown the music out
Say I won't"

God is truly working through Gary and hearing his story is the perfect display of faith in all things.

Ephesians 2:8-9 "For by grace you have been saved through faith. And this is not your own doing; it is the gift of God, not a result of works, so that no one may boast."

Today's Devotional
A Prayer to Remember That Joy Is a Way of Life - Your Daily Prayer - May 21
The Bible commands us, "be joyful aways!"
Top Artists
Top Music Videos