Loving Dog Helps Take Care Of 2-Month-Old Triplets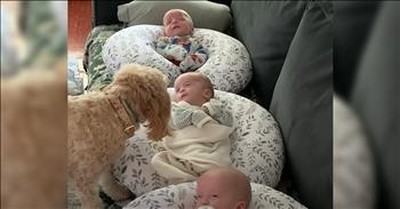 Watch out! This video is cuteness overload, and it's breaking the internet as a loving dog helps take care of 2-month-old triplets.

There's a reason they say dogs are a man's best friend. Dogs instinctively want to be a part of a pack and they view their human counterparts that way. They aim to please and protect even if they have an incredible inability to resist sampling tasty morsels from the dinner table or in this case, kissing babies!
Dogs really do happen to love babies. Not just because they think babies are cute but because they realize babies are just that—babies—or in their eyes—pups. Dogs can be fierce as wolves when defending their pups and as gentle as sheep when tending to their little ones including human babies!
This video proves just how they can't resist loving and caring for new tiny new family members. Not only does this dog get a new human sibling, but she also gets three!
Watch how she adores these three new triplets. Two of the three babies were just waking up from their sweet-dreamed slumber while the third triplet continued to sleep, oblivious to the world. But the dog nimbly, gently, and quietly tiptoed up to the couch.
It is almost as if those babies are her babies and she wants to take a peek but she doesn't want to disturb them. She seems aware of just how precious and fragile these newborns are. And for this new big sister, it seems merely watching these sweet little babes slumber is heartwarming.
But then she slowly and gently nudges each with her nose before planting a kiss on each one as if to say, "I love you already! When you get big enough, we will have so many adventures. I can't wait!" She acted like a proud big sister as she made sure these teeny-weeny bundles of joy were safe and sound.
In a matter of forty seconds, this video shows the tenderness and the loving bond forming between this dog and these triplets. And it's breaking the internet! It's too sweet not to share.
"Every good gift and every perfect gift is from above, coming down from the Father of lights with whom there is no variation or shadow due to change."
James 1:17
godtube-animals

3258 views

2021-10-29T15:24:48

source: Good Morning America Watch out! This video is cuteness overload, and it's breaking the internet as a loving dog helps take care of 2-month-old triplets.

There's a reason they say dogs are a man's best friend. Dogs instinctively want to be a part of a pack and they view their human counterparts that way. They aim to please and protect even if they have an incredible inability to resist sampling tasty morsels from the dinner table or in this case, kissing babies!

Dogs really do happen to love babies. Not just because they think babies are cute but because they realize babies are just that—babies—or in their eyes—pups. Dogs can be fierce as wolves when defending their pups and as gentle as sheep when tending to their little ones including human babies!

This video proves just how they can't resist loving and caring for new tiny new family members. Not only does this dog get a new human sibling, but she also gets three!

Watch how she adores these three new triplets. Two of the three babies were just waking up from their sweet-dreamed slumber while the third triplet continued to sleep, oblivious to the world. But the dog nimbly, gently, and quietly tiptoed up to the couch.

It is almost as if those babies are her babies and she wants to take a peek but she doesn't want to disturb them. She seems aware of just how precious and fragile these newborns are. And for this new big sister, it seems merely watching these sweet little babes slumber is heartwarming.

But then she slowly and gently nudges each with her nose before planting a kiss on each one as if to say, "I love you already! When you get big enough, we will have so many adventures. I can't wait!" She acted like a proud big sister as she made sure these teeny-weeny bundles of joy were safe and sound.

In a matter of forty seconds, this video shows the tenderness and the loving bond forming between this dog and these triplets. And it's breaking the internet! It's too sweet not to share.

"Every good gift and every perfect gift is from above, coming down from the Father of lights with whom there is no variation or shadow due to change." James 1:17

Today's Devotional
A Prayer for Joy - Your Daily Prayer - August 13
So how can we stay in the joy of the Lord all day long, regardless of our circumstances? Here are a few things that we can be intentional about:
Top Artists
Top Music Videos