'Never Walk Alone' Hillsong Worship Acoustic Performance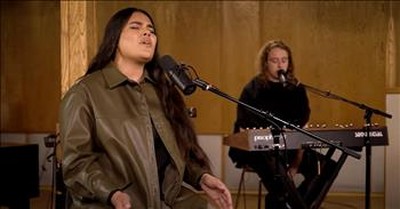 Feel comfort in the arms of the Lord as Hillsong Worship performs an acoustic rendition of 'Never Walk Alone.' These beautiful lyrics remind us that God walks with us and He will never leave our side.

"And I have confidence
You go before me
You're my deliverer
I know I never walk alone"
Hillsong Worship has been a leader in Christian music since 1983. The group started as the band for their home church, in Sydney, Australia. But as their popularity grew, the group decided to share their talents with the entire world and help spread God's Word.
Decades later, they are still one of the top names in Christian music with hits like 'What A Beautiful Name' and 'Who You Say I Am.'
Today, Hillsong Worship is at New Song Café for an acoustic performance of their single, 'Never Walk Alone.' Just listen as their anointed voices come together and praise our King.
"You're always faithful, You're strong and able
I'm lifting my head in You I find help
You're my providence"
On Instagram
, Hillsong Worship shared their hope for the song. "We pray that as you worship to this song, it would an anthem of remembrance, glorifying the God who goes before us and never leaves us."
What a beautiful reminder that the strength of the Lord is by our side.
Isaiah 41:10 "Fear not, for I am with you; be not dismayed, for I am your God; I will strengthen you, I will help you, I will uphold you with my righteous right hand."
hillsong-worship

2045 views

2021-10-14T15:29:30

source: Hillsong Worship Feel comfort in the arms of the Lord as Hillsong Worship performs an acoustic rendition of 'Never Walk Alone.' These beautiful lyrics remind us that God walks with us and He will never leave our side.

"And I have confidence
You go before me
You're my deliverer
I know I never walk alone"

Hillsong Worship has been a leader in Christian music since 1983. The group started as the band for their home church, in Sydney, Australia. But as their popularity grew, the group decided to share their talents with the entire world and help spread God's Word.

Decades later, they are still one of the top names in Christian music with hits like 'What A Beautiful Name' and 'Who You Say I Am.'
Today, Hillsong Worship is at New Song Café for an acoustic performance of their single, 'Never Walk Alone.' Just listen as their anointed voices come together and praise our King.

"You're always faithful, You're strong and able
I'm lifting my head in You I find help
You're my providence"

On Instagram, Hillsong Worship shared their hope for the song. "We pray that as you worship to this song, it would an anthem of remembrance, glorifying the God who goes before us and never leaves us."

What a beautiful reminder that the strength of the Lord is by our side.

Isaiah 41:10 "Fear not, for I am with you; be not dismayed, for I am your God; I will strengthen you, I will help you, I will uphold you with my righteous right hand."

Today's Devotional
A Prayer for Joy - Your Daily Prayer - August 13
So how can we stay in the joy of the Lord all day long, regardless of our circumstances? Here are a few things that we can be intentional about:
Top Artists
Top Music Videos