'I'll Fly Away' Hymn From John Denver, Glen Campbell And Johnny Cash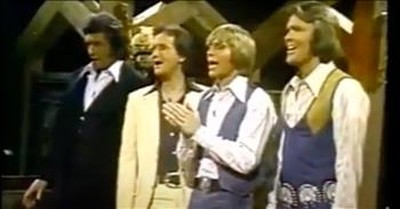 The legendary voices of John Denver, Glen Campbell, Johnny Cash and Roger Miller come together for this rare performance of the classic hymn 'I'll Fly Away.'

This beloved song was written in 1929 by Albert E. Brumley. It was published in 1932 and became a hymn frequently performed in church services all over the world.
In fact, the song has even been called one of the most recorded gospel songs of all time with notable covers from Alison Krauss and Alan Jackson.
Albert was picking cotton on his family farm when the words to the classic hymn came into his mind. From that moment, it took Albert three more years to complete the iconic song.
"Some bright morning when this life is over, I'll fly away
To that home on God's celestial shore, I'll fly away
I'll fly away, oh glory. I'll fly away in the morning
When I die, Hallelujah by and by, I'll fly away"
Today, some of the most iconic artists of all time are performing 'I'll Fly Away.' In this 1977 clip, enjoy hearing John Denver, Glen Campbell, Johnny Cash and Roger Miller belt out these spirit-filled words.
"Just a few more weary days and then
I'll fly away
To a land where joy shall never end
I'll fly away"
What a blessing to know that our Lord is with us each step of the way. Who else is saying amen?
Revelation 1:3 "Blessed is the one who reads aloud the words of this prophecy, and blessed are those who hear, and who keep what is written in it, for the time is near."
GodTube-Music

32305 views

2021-10-06T12:40:50

source: Jason Wang The legendary voices of John Denver, Glen Campbell, Johnny Cash and Roger Miller come together for this rare performance of the classic hymn 'I'll Fly Away.'

This beloved song was written in 1929 by Albert E. Brumley. It was published in 1932 and became a hymn frequently performed in church services all over the world.

In fact, the song has even been called one of the most recorded gospel songs of all time with notable covers from Alison Krauss and Alan Jackson.

Albert was picking cotton on his family farm when the words to the classic hymn came into his mind. From that moment, it took Albert three more years to complete the iconic song.

"Some bright morning when this life is over, I'll fly away
To that home on God's celestial shore, I'll fly away
I'll fly away, oh glory. I'll fly away in the morning
When I die, Hallelujah by and by, I'll fly away"

Today, some of the most iconic artists of all time are performing 'I'll Fly Away.' In this 1977 clip, enjoy hearing John Denver, Glen Campbell, Johnny Cash and Roger Miller belt out these spirit-filled words.

"Just a few more weary days and then
I'll fly away
To a land where joy shall never end
I'll fly away"

What a blessing to know that our Lord is with us each step of the way. Who else is saying amen?

Revelation 1:3 "Blessed is the one who reads aloud the words of this prophecy, and blessed are those who hear, and who keep what is written in it, for the time is near."

Today's Devotional
A Prayer to Remember That Joy Is a Way of Life - Your Daily Prayer - May 21
The Bible commands us, "be joyful aways!"
Top Artists
Top Music Videos