'Christmas With The Chosen: The Messengers' Trailer For Record-Breaking Special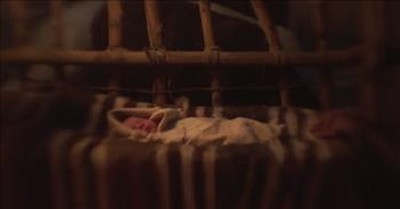 Check out this incredible trailer for the special called 'Christmas With The Chosen: The Messengers.'

"The Chosen has been viewed millions of times on millions of small screens in every country around the world," reads the text at the beginning of the trailer. "Now, The Chosen is celebrating Christmas with a brand new episode in theaters."
The Chosen is a wonderful TV show about the life of Jesus, and the creator and director of the show is Dallas Jenkins.
"Welcome to Christmas with The Chosen," Dallas says in the trailer. "I'm standing right now on our incredible set where we filmed half of season two and all of tonight's event."
The trailer shows scenes from the special that is coming to theaters this December, and it will also include music by many Christian artists to celebrate the Christmas season. Those artists include Phil Wickham, Leanna Crawford, Maverick City Music, For King & Country, Brandon Lake, Bryan & Katie Torwalt, and Cain.
"There's this call to the listener. Everybody wants to come to this story again," says Phil Wickham in the trailer.
Many people shared their excitement about 'Christmas With The Chosen' online.
"The way The Chosen points to and lifts up Jesus rocks me every single time,"
writes
one person on YouTube after watching the trailer. "So thankful for all the work of Dallas, his wife, the cast, crew, the musicians and everyone else involved. Can't wait to see this eventually and just share it."
"Christmas songs are the most incredible worship songs!"
comments
another person online. "Even this tiny trailer proclaiming Jesus gives one chills of awe and wonder and gratefulness."
Make sure you make plans with your friends and family to go see the greatest story ever told in theaters this December and get tickets to 'Christmas With The Chosen: The Messengers.'
godtube-movie-trailers

2188 views

2021-11-16T18:14:58

source: The Chosen Check out this incredible trailer for the special called 'Christmas With The Chosen: The Messengers.'

"The Chosen has been viewed millions of times on millions of small screens in every country around the world," reads the text at the beginning of the trailer. "Now, The Chosen is celebrating Christmas with a brand new episode in theaters."

The Chosen is a wonderful TV show about the life of Jesus, and the creator and director of the show is Dallas Jenkins.

"Welcome to Christmas with The Chosen," Dallas says in the trailer. "I'm standing right now on our incredible set where we filmed half of season two and all of tonight's event."

The trailer shows scenes from the special that is coming to theaters this December, and it will also include music by many Christian artists to celebrate the Christmas season. Those artists include Phil Wickham, Leanna Crawford, Maverick City Music, For King & Country, Brandon Lake, Bryan & Katie Torwalt, and Cain.

"There's this call to the listener. Everybody wants to come to this story again," says Phil Wickham in the trailer.

Many people shared their excitement about 'Christmas With The Chosen' online.

"The way The Chosen points to and lifts up Jesus rocks me every single time," writes one person on YouTube after watching the trailer. "So thankful for all the work of Dallas, his wife, the cast, crew, the musicians and everyone else involved. Can't wait to see this eventually and just share it."

"Christmas songs are the most incredible worship songs!" comments another person online. "Even this tiny trailer proclaiming Jesus gives one chills of awe and wonder and gratefulness."

Make sure you make plans with your friends and family to go see the greatest story ever told in theaters this December and get tickets to 'Christmas With The Chosen: The Messengers.'

Today's Devotional
A Prayer for Joy - Your Daily Prayer - August 13
So how can we stay in the joy of the Lord all day long, regardless of our circumstances? Here are a few things that we can be intentional about:
Top Artists
Top Music Videos