The Best of Dogs Saying Grace Before Meal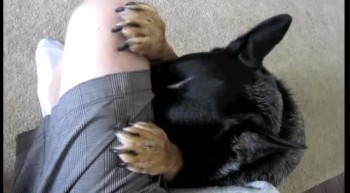 We love prayer and we love doggy-family joining us in "prayer!" These dogs saying grace are the cutest thing!

While we know that dogs can't actually pray, there is something truly adorable in seeing this cute trick played out by so many different doggy pals. These canines are making sure to take the moment to step back, listen to their owner, and pause before gobbling down their tasty meals.
As you and yours settled down for that anticipated Thanksgiving meal, we hope that you will take a moment to quiet your heart and think of all the blessings that God has granted you this year. Even in our the most difficult of years (we've had a few ourselves!) there is ALWAYS a blessing to be found, counted, and appreciated. What a privilege to have a loving God who cares for each one of us as His own! Let's remember to give thanks to the One who provides us with our every need.
"Shout with joy to the Lord, all the earth! Worship the Lord with gladness. Come before him, singing with joy. Acknowledge that the Lord is God! He made us, and we are his. We are his people, the sheep of his pasture. Enter his gates with thanksgiving; go into his courts with praise. Give thanks to him and praise his name. For the Lord is good. His unfailing love continues forever, and his faithfulness continues to each generation." Psalm 100:1-5
"I will give thanks to the Lord because of his righteousness; I will sing the name of the Lord Most High." Psalm 7:17
Embed

inspiredfaith

275721 views

2011-11-23T00:49:00

We love prayer and we love doggy-family joining us in "prayer!" These dogs saying grace are the cutest thing!

While we know that dogs can't actually pray, there is something truly adorable in seeing this cute trick played out by so many different doggy pals. These canines are making sure to take the moment to step back, listen to their owner, and pause before gobbling down their tasty meals.

As you and yours settled down for that anticipated Thanksgiving meal, we hope that you will take a moment to quiet your heart and think of all the blessings that God has granted you this year. Even in our the most difficult of years (we've had a few ourselves!) there is ALWAYS a blessing to be found, counted, and appreciated. What a privilege to have a loving God who cares for each one of us as His own! Let's remember to give thanks to the One who provides us with our every need.

"Shout with joy to the Lord, all the earth! Worship the Lord with gladness. Come before him, singing with joy. Acknowledge that the Lord is God! He made us, and we are his. We are his people, the sheep of his pasture. Enter his gates with thanksgiving; go into his courts with praise. Give thanks to him and praise his name. For the Lord is good. His unfailing love continues forever, and his faithfulness continues to each generation." Psalm 100:1-5

"I will give thanks to the Lord because of his righteousness; I will sing the name of the Lord Most High." Psalm 7:17


Today's Devotional
A Prayer for When You Don't Feel Like Praising God - Your Daily Prayer - May 25
Top Artists