Big Brother Has The Sweetest Relationship With Little Sister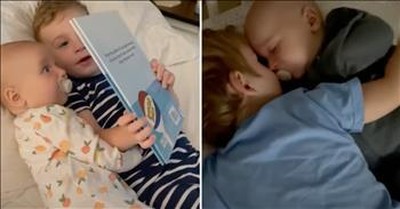 In this precious home video we see a glimpse into the life of this little boy as his role as oldest in the family. The big brother has the sweetest relationship with his little sister.

The video starts with the mom sharing how he was intended to be the oldest. We see a picture of him kissing her tummy to love on the baby.
We see a video of the newborn being held by the preschooler. They share a kiss. He plays in the bath splashing his sister sweetly. The boy reads his sister a bedtime story in their jammies. Then, we adorably see him cuddle his sister in the crib to sleep. The mom shares how the oldest sibling is "the leader, the nurturer, and the caregiver."
Maybe you have had a tight knit relationship with your siblings. Or maybe you wish that you had this type of bond. The gift of having a brother or sister is not always appreciated from a young age.
I know many young kids who fight and have a hard time adjusting to new additions in a family. However, the Lord has placed each one of us in the family that we are in for a reason. This video shows us a child taking the positive opportunity to influence his sister. We too can each make the most of our situations and love on the families who God has placed us in.
Although this is in the context of spiritual brothers and sisters, we can also apply it to our biological or adopted families.
"Whoever claims to love God yet hates a brother or sister is a liar. For whoever does not love their brother and sister, whom they have seen, cannot love God, whom they have not seen."
1 John 4:12
kidsarecute

919 views

2021-10-28T10:32:47

source: Rumble Viral In this precious home video we see a glimpse into the life of this little boy as his role as oldest in the family. The big brother has the sweetest relationship with his little sister.

The video starts with the mom sharing how he was intended to be the oldest. We see a picture of him kissing her tummy to love on the baby.

We see a video of the newborn being held by the preschooler. They share a kiss. He plays in the bath splashing his sister sweetly. The boy reads his sister a bedtime story in their jammies. Then, we adorably see him cuddle his sister in the crib to sleep. The mom shares how the oldest sibling is "the leader, the nurturer, and the caregiver."

Maybe you have had a tight knit relationship with your siblings. Or maybe you wish that you had this type of bond. The gift of having a brother or sister is not always appreciated from a young age.

I know many young kids who fight and have a hard time adjusting to new additions in a family. However, the Lord has placed each one of us in the family that we are in for a reason. This video shows us a child taking the positive opportunity to influence his sister. We too can each make the most of our situations and love on the families who God has placed us in.

Although this is in the context of spiritual brothers and sisters, we can also apply it to our biological or adopted families.

"Whoever claims to love God yet hates a brother or sister is a liar. For whoever does not love their brother and sister, whom they have seen, cannot love God, whom they have not seen." 1 John 4:12

Top Artists
Top Music Videos