Father-Daughter Duet To 'Hallelujah' By Adrian And Emma-Jean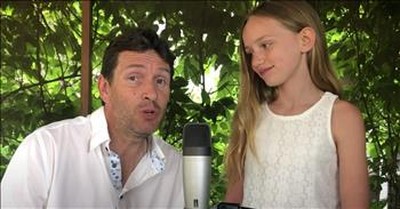 Enjoy this chilling performance of 'Hallelujah' from father-daughter duo Adrian and Emma-Jean.

The powerful song was originally released in 1984, but it wasn't until Jeff Buckley released the song on his 1994 album, 'Grace' that the song really started to gain momentum.
Since that time, 'Hallelujah' become a worldwide phenomenon and truly cemented itself in music history. Over the years, many artists have covered the tune and it's a popular song selection for auditions and showcases. The unique tune sounds like a perfect blend of a rock ballad and a gospel song.
"Well it goes like this
The fourth, the fifth, the minor fall and the major lift
The baffled king composing Hallelujah
Hallelujah, Hallelujah
Hallelujah, Hallelujah"
Adrian and Emma-Jean Galliard are a talented father-daughter duo from Johannesburg, South Africa.
On their website
, Adrian and Emma-Jean shared that they have been singing together for a while. But they rose "to internet fame after videos of them singing The Prayer & Time To Say Goodbye went viral, leading to them being mistaken for the son & granddaughter of Andrea Bocelli."
Today, they are belting out the words to 'Hallelujah' and it is truly a touching performance that you don't want to miss.
There is something so special about a father and daughter coming together to sing and rejoice. From the very first note, I knew this was going to be an incredible performance and they did not disappoint. Who else agrees?
Matthew 19:14 "But Jesus said, "Let the little children come to me and do not hinder them, for to such belongs the kingdom of heaven."
godtube-inspiration

5745 views

2021-10-26T14:33:00

source: Adrian & Emma-Jean Music Enjoy this chilling performance of 'Hallelujah' from father-daughter duo Adrian and Emma-Jean.

The powerful song was originally released in 1984, but it wasn't until Jeff Buckley released the song on his 1994 album, 'Grace' that the song really started to gain momentum.

Since that time, 'Hallelujah' become a worldwide phenomenon and truly cemented itself in music history. Over the years, many artists have covered the tune and it's a popular song selection for auditions and showcases. The unique tune sounds like a perfect blend of a rock ballad and a gospel song.

"Well it goes like this
The fourth, the fifth, the minor fall and the major lift
The baffled king composing Hallelujah
Hallelujah, Hallelujah
Hallelujah, Hallelujah"

Adrian and Emma-Jean Galliard are a talented father-daughter duo from Johannesburg, South Africa.

On their website, Adrian and Emma-Jean shared that they have been singing together for a while. But they rose "to internet fame after videos of them singing The Prayer & Time To Say Goodbye went viral, leading to them being mistaken for the son & granddaughter of Andrea Bocelli."

Today, they are belting out the words to 'Hallelujah' and it is truly a touching performance that you don't want to miss.

There is something so special about a father and daughter coming together to sing and rejoice. From the very first note, I knew this was going to be an incredible performance and they did not disappoint. Who else agrees?

Matthew 19:14 "But Jesus said, "Let the little children come to me and do not hinder them, for to such belongs the kingdom of heaven."

Top Artists
Top Music Videos