Top 7 Most Emotional Voice Kids Performances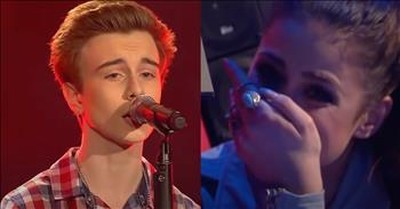 There are some fabulously talented young performers in the world. This video highlights the top 7 most emotional Voice Kids performances.

The first boy performs a moving song in German. His family cries as the audience cheers. Excitedly, a judge turns his chair in happiness to support the young man. The next song is of a young woman singing an opera performance to "Time to Say Goodbye." She wins the hearts of every judge and they all turn around. One judge is sobbing her eyes out over the phenomenal performance.
The British Voice shows a beautiful duet performed by Jasmin and Richard to "All of Me." The two have such chemistry on stage together and blend together nicely. Each judge is contemplative and emotional over the duet. Then, there is a young man at the piano and every single judge turns around as he belts out effortlessly.
The next young woman to sing has a powerful and sultry voice. The judges respond, "wow!" The judges turn around left and right! Suddenly a sweet young girl sings, "The Power of Love." She has a stunning performance and the judges agree. Lastly, a boy and two girls sing a powerful and sweet rendition of "Hallelujah." They each have a pure tone of voice and a natural blend with their harmonies. It is adorable.
These clips of various young people singing reminds me that the Bible tells us not to look down on people who are young. In the family of faith, young believers can set examples of living out their lives for Christ. Just as these judges acknowledge real talents for people of young ages, may we also take notice of young believers and learn from what they have to offer the body of Christ.
"Don't let anyone look down on you because you are young, but set an example for the believers in speech, in conduct, in love, in faith and in purity."
1 Timothy 4:12
kidsarecute

723 views

2021-09-17T12:18:41

source: The Voice Kids There are some fabulously talented young performers in the world. This video highlights the top 7 most emotional Voice Kids performances.

The first boy performs a moving song in German. His family cries as the audience cheers. Excitedly, a judge turns his chair in happiness to support the young man. The next song is of a young woman singing an opera performance to "Time to Say Goodbye." She wins the hearts of every judge and they all turn around. One judge is sobbing her eyes out over the phenomenal performance.

The British Voice shows a beautiful duet performed by Jasmin and Richard to "All of Me." The two have such chemistry on stage together and blend together nicely. Each judge is contemplative and emotional over the duet. Then, there is a young man at the piano and every single judge turns around as he belts out effortlessly.

The next young woman to sing has a powerful and sultry voice. The judges respond, "wow!" The judges turn around left and right! Suddenly a sweet young girl sings, "The Power of Love." She has a stunning performance and the judges agree. Lastly, a boy and two girls sing a powerful and sweet rendition of "Hallelujah." They each have a pure tone of voice and a natural blend with their harmonies. It is adorable.

These clips of various young people singing reminds me that the Bible tells us not to look down on people who are young. In the family of faith, young believers can set examples of living out their lives for Christ. Just as these judges acknowledge real talents for people of young ages, may we also take notice of young believers and learn from what they have to offer the body of Christ.

"Don't let anyone look down on you because you are young, but set an example for the believers in speech, in conduct, in love, in faith and in purity." 1 Timothy 4:12

Top Artists
Top Music Videos