Man Plays Violin In The Middle Of Traffic As Resident Flee Wildfires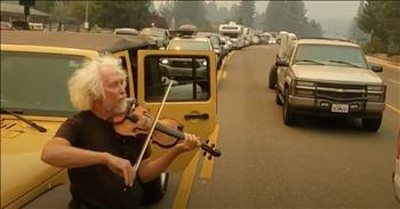 While thousands wait nervously on a highway in the South Lake Tahoe area, one man plays his violin in the middle of traffic for residents attempting to flee the wildfires. In an effort to calm and entertain evacuees, Mel Smothers took up his instrument when he found himself also at a standstill as the flames moved closer.

Mel knows a little something about forest fires. He's a retired forest ranger, and, luckily for these frantic folks, he has musical gifts as well. Mel, with wild, white hair and a fanny pack, plays a pretty tune with a comforting peace about him. And, his fishing shirt indicates that this gentleman is able to exercise much-needed patience.
The video goes on to show firefighters working amidst the flames. It's unbelievable that they can continue working when they seem utterly surrounded by the inferno! The fires have consumed the Sierra Nevadas and blazed right on to engulf resorts surrounding beautiful Lake Tahoe. More than 50,000 people have been evacuated from the area, which borders California and Nevada.
We see fabulous homes engulfed in flames, as well as a few of the mitigation procedures that were put into place to save others. San Francisco-based professional photographer Josh Edelson describes the fire as "insane." After capturing images of the devastation, he hastily heads out as flames and smoke crowd around. He owns a property nearby and stops to spray it down with water in hopes that it will be spared.
A lone bear lopes through the streets trying to figure out where to go. Fortunately, most of us humans don't ever encounter a natural disaster, but floods, hurricanes, tornadoes, and forest fires do happen. And, it's a relief that some folks know exactly where they need to be even when others don't.
Whether it's fighting the enemy with tools in hand, documenting the event for educational purposes, or being an encouragement to others, they recognize how they can help. Like the eight band members that did their absolute best to provide solace to those aboard the ill-fated Titanic, Mel knew what to do. The Titanic disaster far outweighed the fires in the video in terms of immediate threat and lives lost, but Mel's gesture certainly demonstrates selflessness and a desire to uplift others even when looking fear in the face!
"Do nothing out of selfish ambition or vain conceit. Rather, in humility value others above yourselves,"
Philippians 2:3
godtube-inspiration

760 views

2021-09-17T12:26:49

source: Inside Edition While thousands wait nervously on a highway in the South Lake Tahoe area, one man plays his violin in the middle of traffic for residents attempting to flee the wildfires. In an effort to calm and entertain evacuees, Mel Smothers took up his instrument when he found himself also at a standstill as the flames moved closer.

Mel knows a little something about forest fires. He's a retired forest ranger, and, luckily for these frantic folks, he has musical gifts as well. Mel, with wild, white hair and a fanny pack, plays a pretty tune with a comforting peace about him. And, his fishing shirt indicates that this gentleman is able to exercise much-needed patience.

The video goes on to show firefighters working amidst the flames. It's unbelievable that they can continue working when they seem utterly surrounded by the inferno! The fires have consumed the Sierra Nevadas and blazed right on to engulf resorts surrounding beautiful Lake Tahoe. More than 50,000 people have been evacuated from the area, which borders California and Nevada.

We see fabulous homes engulfed in flames, as well as a few of the mitigation procedures that were put into place to save others. San Francisco-based professional photographer Josh Edelson describes the fire as "insane." After capturing images of the devastation, he hastily heads out as flames and smoke crowd around. He owns a property nearby and stops to spray it down with water in hopes that it will be spared.

A lone bear lopes through the streets trying to figure out where to go. Fortunately, most of us humans don't ever encounter a natural disaster, but floods, hurricanes, tornadoes, and forest fires do happen. And, it's a relief that some folks know exactly where they need to be even when others don't.

Whether it's fighting the enemy with tools in hand, documenting the event for educational purposes, or being an encouragement to others, they recognize how they can help. Like the eight band members that did their absolute best to provide solace to those aboard the ill-fated Titanic, Mel knew what to do. The Titanic disaster far outweighed the fires in the video in terms of immediate threat and lives lost, but Mel's gesture certainly demonstrates selflessness and a desire to uplift others even when looking fear in the face!

"Do nothing out of selfish ambition or vain conceit. Rather, in humility value others above yourselves," Philippians 2:3

Today's Devotional
A Prayer to Remember That Joy Is a Way of Life - Your Daily Prayer - May 21
The Bible commands us, "be joyful aways!"
Top Artists
Top Music Videos