Father-Daughter Duet To 'Angels We Have Heard On High'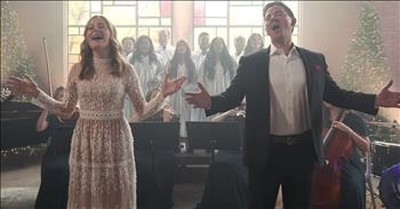 Remember the real reason for the Christmas season as you listen to this father-daughter duet to 'Angels We Have Heard On High.' This classic Christmas song is the perfect reminder that we are celebrating the birth of our Savior, and all of His many blessings.

"Angels we have heard on high
Sweetly, sweetly through the night
And the mountains in reply echoing their brief delight
Gloria, in excelsis Deo, Gloria, in excelsis Deo"
Adrian and Emma-Jean Galliard are a talented father-daughter duo from Johannesburg, South Africa.
On their website
, Adrian and Emma-Jean shared that they have been singing together for a while. But they rose "to internet fame after videos of them singing The Prayer & Time To Say Goodbye went viral, leading to them being mistaken for the son & granddaughter of Andrea Bocelli."
Today, they are helping to get us in the Christmas spirit with this beautiful rendition of 'Angels We Have Heard On High.' Just listen as they belt out these lyrics that we all know and love.
"Shepherds, why this jubilee?
Why your joyous strains prolong?
What the gladsome tidings be
Which inspire your heavenly song?"
At Christmas, we remember that it is not about the gifts under the tree. But rather, it is about the greatest gift of all, our Savior, Jesus Christ.
Luke 2:8-9 "And there were shepherds out in the field, keeping watch by night. And an angel of the Lord appeared to them, and the glory of the Lord shone around them."
godtube-christmas

3182 views

2021-11-08T14:07:02

source: Mat and Savanna Shaw Remember the real reason for the Christmas season as you listen to this father-daughter duet to 'Angels We Have Heard On High.' This classic Christmas song is the perfect reminder that we are celebrating the birth of our Savior, and all of His many blessings.

"Angels we have heard on high
Sweetly, sweetly through the night
And the mountains in reply echoing their brief delight
Gloria, in excelsis Deo, Gloria, in excelsis Deo"

Adrian and Emma-Jean Galliard are a talented father-daughter duo from Johannesburg, South Africa.

On their website, Adrian and Emma-Jean shared that they have been singing together for a while. But they rose "to internet fame after videos of them singing The Prayer & Time To Say Goodbye went viral, leading to them being mistaken for the son & granddaughter of Andrea Bocelli."

Today, they are helping to get us in the Christmas spirit with this beautiful rendition of 'Angels We Have Heard On High.' Just listen as they belt out these lyrics that we all know and love.

"Shepherds, why this jubilee?
Why your joyous strains prolong?
What the gladsome tidings be
Which inspire your heavenly song?"

At Christmas, we remember that it is not about the gifts under the tree. But rather, it is about the greatest gift of all, our Savior, Jesus Christ.

Luke 2:8-9 "And there were shepherds out in the field, keeping watch by night. And an angel of the Lord appeared to them, and the glory of the Lord shone around them."


Today's Devotional
A Prayer for Joy - Your Daily Prayer - August 13
So how can we stay in the joy of the Lord all day long, regardless of our circumstances? Here are a few things that we can be intentional about:
Top Artists
Top Music Videos